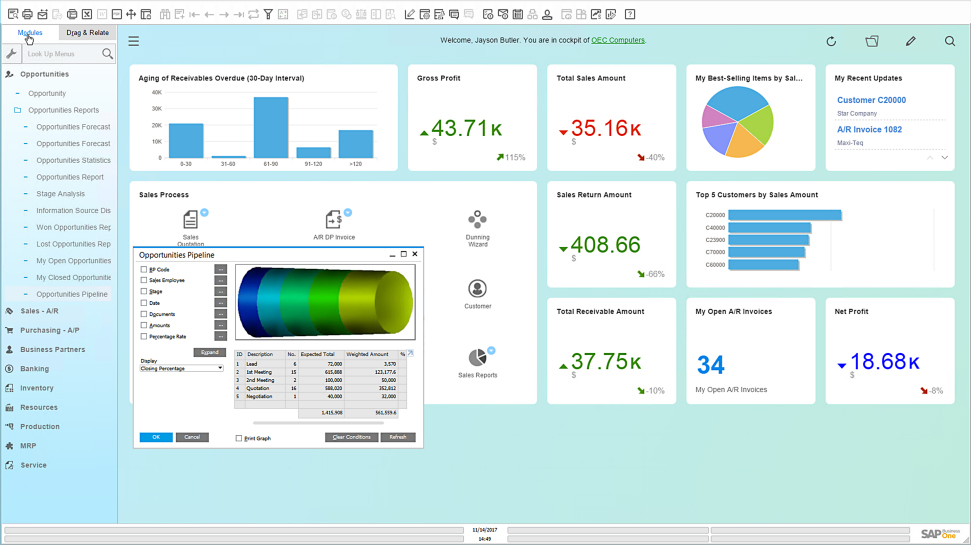 The main benefits of SAP ERP are its stable functionalities and security.  Here are more details of its benefits:
Manages Payments
Procurement can give a positive impact on your business when managed properly, and SAP ERP will help you reap these benefits along the process. It takes your business to a whole new level by helping you pick low-cost but highly competent dealers, manage inventories, handle payments and keeps a solid connection to your supplier.
Regulates Finances
Financial management is among the fundamental and crucial aspects of your business. With all the accounting features and tools at SAP ERP, you don't have to worry about managing your finances. It collects data and organizes financial reports and analytics which can be easily accessed and viewed in real time.
Administers Productions
Product manufacturing involves planning, scheduling, and monitoring of different processes including procurement and product ordering. SAP ERP allows you to link each process to reduce production time, cut the chances of over or under-stocking, and boost production efficiency.
Supports Human Resources
SAP ERP can help you build a strong relationship with your team. It improves professional development, manages employee schedules and enhances staff engagement to boost worker satisfaction and create a better work environment.
Offers Technical Capabilities
SAP ERP offers a wide range of technical capabilities which can turn your enterprise resource planning tasks easy and less cumbersome. It ensures fast accessibility and security of your data, so clients are always guaranteed in good hands.