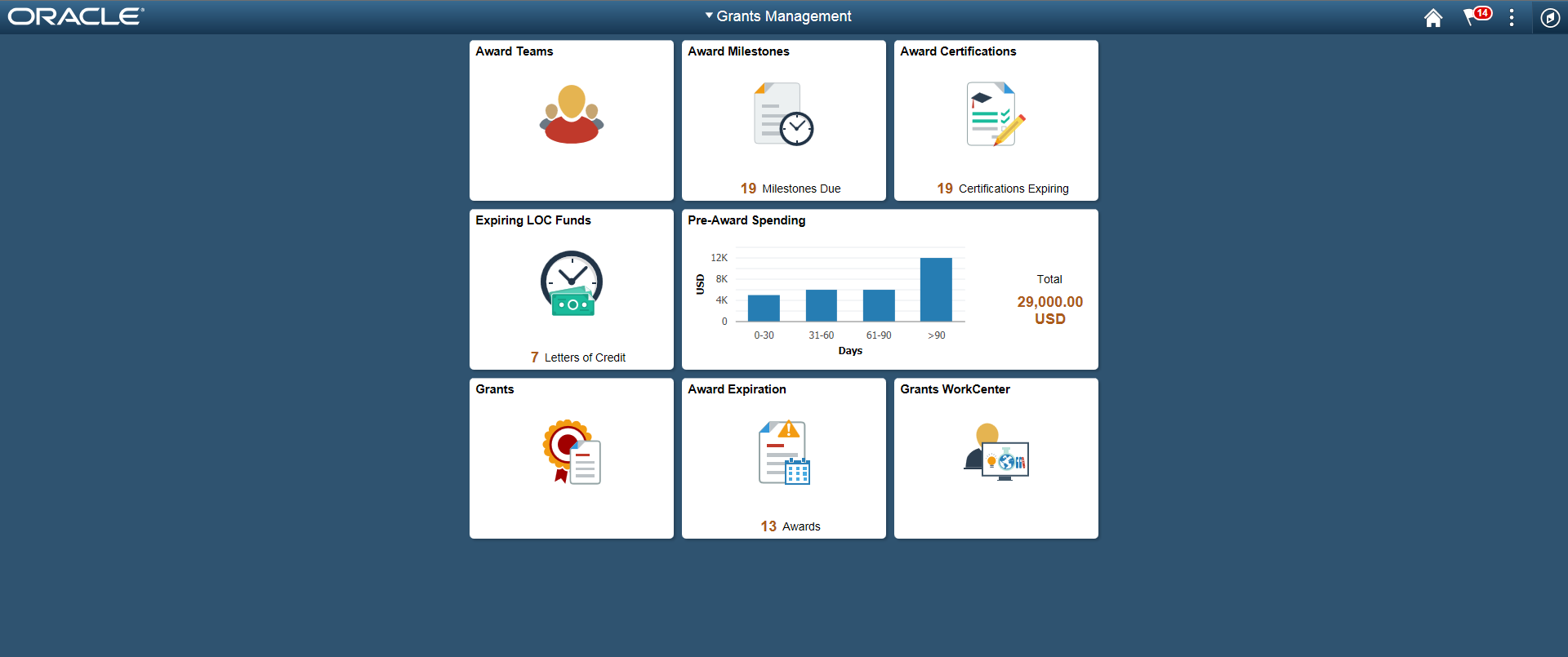 The main benefits of PeopleSoft Grants Management are its streamlining of grants administration, award management, and its protocol processing. Here are more details:
Whether it is award management or proposal generation, PeopleSoft Enterprise Grants Management can help streamline it for institutions, agencies, and organizations, resulting in activities and processes that are seamlessly handled. This also leads to administrative tasks being automated, productivity boosted, and sponsor and institutional requirements complied with.
No matter how complicated the grant proposals may be, PeopleSoft Enterprise Grants Management can generate it easily. Multiple budgets, multiples rates, and sites, as well as relational structures can also be added.
Collaboration and communication between the people involved in grant protocol are optimized and accelerated thanks to the software's configurable workflow templates. What it does is it automate the submission, review, and approval of grant proposals and protocols.
Users of PeopleSoft Enterprise Grants Management will also find it useful when it comes to award management. Elements that are necessary for award management can be set up utilizing the same functionalities or components of the software used for proposal generation. Closeout activities can be tracked automatically and an audit trail of performed activities provided.
Even if information comes from different sources, PeopleSoft Enterprise Grants Management can gather and consolidate them in a central repository. This way, stakeholders and employees only need to look at one source for necessary information.
Collaboration is encouraged by the single data repository provided by the software since it enables employees, program directors, and principal investigators to work together seamlessly.
Creating, submitting, and modifying or renewing human and animal testing protocols can be automated by PeopleSoft Enterprise Grants Management. The capture and amendment of animal and human protocols are streamlined by PeopleSoft Enterprise Grants Management's automated system.
The different protocol versions used to generate new protocols or change existing ones can be tracked with the software. Modifying a protocol only requires copying the protocol and applying the changes. Protocol notifications and workflows are also automated so approvers can quickly review and approve protocols.
When it comes to regulatory requirements, those looking for grants can expect help from PeopleSoft Enterprise Grants Management. The software does this through its integration with Grants.gov. Funding or grant opportunities are posted on this web-based application and e-governance site. Grants.gov also informs those looking for grants as to what requirements they need to have to qualify for those grant programs.
The status of submitted applications can be tracked, grant applications sent, and grant opportunities searched via the web services of Grants.gov. PeopleSoft Enterprise Grants Management can then have the data and schemas related to the opportunity captured and then forwarded to its grant proposal functionality.
Grant applications or proposals can be submitted in XML format to Grants.gov. Users can also go to the grant proposal functionality and have the SF 424 R&R forms generated and printed directly from there. Grants.gov's GetApplicationStatusDetails and GetApplicationList can then be used in the tracking of an application's processing status and details.
As a grants management system that is all-encompassing, PeopleSoft Enterprise Grants Management can handle even the financial aspects of pre- and post-award processes. It can be integrated with the financial management solution that comes with PeopleSoft Enterprise, so that purchase orders, expenditures, and journal entries can be reviewed and evaluated. Grant proposals can also be converted into awards with just a button click once PeopleSoft Enterprise Grants Management is integrated with PeopleSoft Proposal Management.