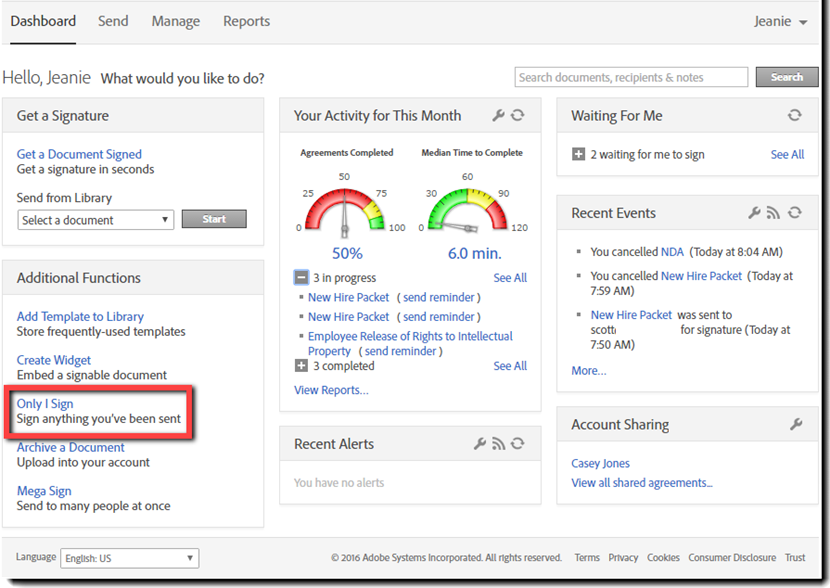 The main benefits of Adobe Sign include its ease of use, strict compliance with EU regulation and native integration with the Adobe ecosystem. Here are more details:
Adobe Sign automatically detects form fields when users are preparing documents for authoring and e-signing. This makes it easy for them to add form fields to their documents. Creating online form and digital documents also happen much faster.
Adobe Sign has color codes for the form and signature field to improve accuracy in authoring documents. Each color code is assigned to a specific recipient, who must then be the one to fill in those fields. This dramatically lowers errors in collecting e-signatures since signers and approvers can easily see where they're supposed to sign.
Adobe Sign lets its users comply with the specific requirements for signatures under the EU's eIDAS regulation. With Adobe Sign, businesses can be sure that they are in compliance with this as the platform allows them to add timestamps to their e-signed documents. These timestamps can then be used to confirm the validity of e-signatures, as well as prove the authenticity of the documents.
Users in India can also use Adobe Sign to e-sign documents using their Aadhaar identity number. The Aadhaar identity number is a biometric ID system in India, wherein the government issues a unique 12-digit identity number to residents. This feature makes sure that users in India are in compliance with their data management and e-signature laws.
Multiple apps integrate with Adobe Sign. Some of them include Microsoft Outlook, Microsoft Word/PowerPoint, Microsoft Teams, and Microsoft Flow. Other apps like Dynamics CRM v6 and Microsoft SharePoint Online can also integrate with Adobe Sign. This gives users the ability to automate their document management workflows and signing processes. Document-sharing and e-signing are also easier as they can share directly to their partners, vendors, and colleagues for e-signing from these applications.