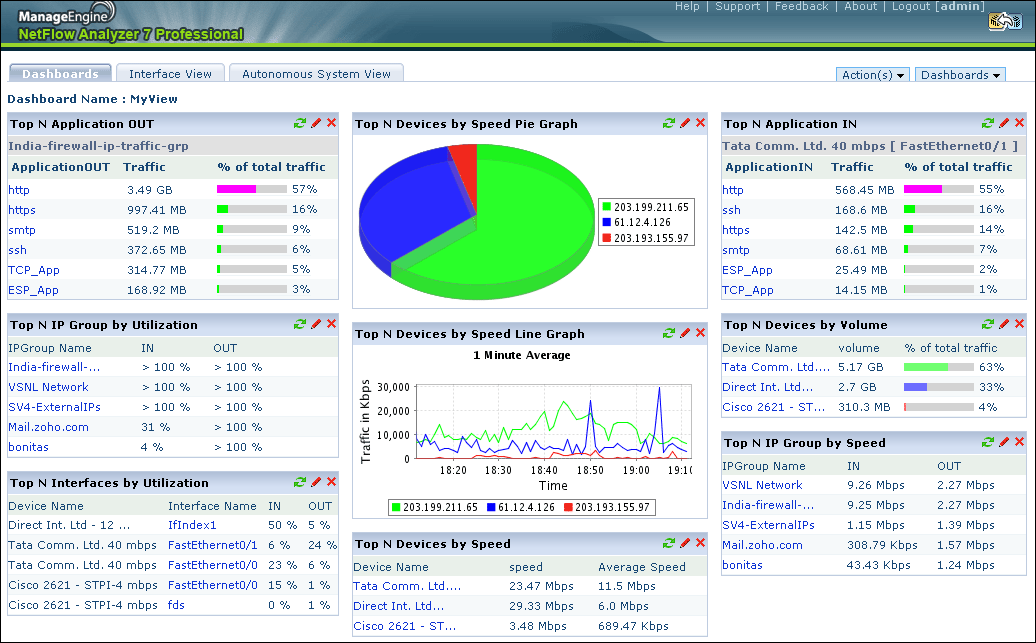 The main benefits of NetFlow Analyzer are it helps you manage your networks better, it has a reliable alert system for threshold issues and it has a neat dashboard. Here are more details:
Monitor and Troubleshoot
NetFlow Analyzer's deep set of features allow users to better understand their networks especially in terms of delays. Bandwidth usage is classified by the software based on interfaces, applications, hosts, and protocols. This enables users to quickly determine where the delays are coming from so necessary changes can be made. Furthermore, all of the information is available from the dashboard, which is customizable. Visualizations like graphs make the whole task easier. Users can monitor usage at different timescales like daily, monthly, or yearly.
NetFlow Analyzer allows users to identify the cause of network traffic spikes that can result in outages. With its advanced forensic reports, troubleshooting spikes can be done faster and more targeted.  
Threshold alerts and App/Protocol Monitoring
Users can define their custom thresholds for usage and have Network Analyzer alert them and send notifications if thresholds are being passed. Thresholds can be configured in groups of devices or IPs. Furthermore, the administrator can also specify periods for which different thresholds are allowed. Also, one can ensure that key applications are getting priority in the network. This ensures critical procedures are safeguarded from arbitrary spikes in usage often caused by human behavior.
Medianet Reports
NetFlow Analyzer comes with Cisco Medianet, a network designed specifically to handle media traffic. This optimizes network performance even when it is handling media traffic that consumes a lot of bandwidth. This allows the network to handle rich media transmissions in a speedy manner.
Integrated Management with iPhone App
The platform includes the OpManager Plus allowing users to have an integrated view of the network in one clean dashboard and console. Different aspects of the network can be monitored and analyzed from its performance and traffic. Configurations can be altered or created easily via the feature. Furthermore, NetFlow Analyzer is available for iPhone devices. One can now monitor their WAN and LAN traffic even when they are offsite. The app also includes a rich set of features that allow for monitoring traffic trends, conversations, and a lot more.