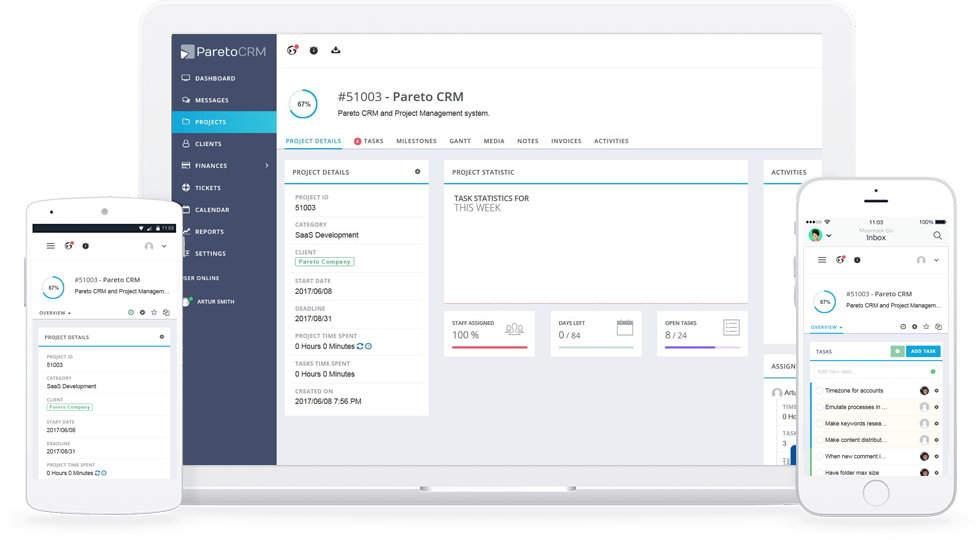 The main benefits of Pareto CRM are its fast and easy planning, comprehensive project progress tracking, and accurate invoicing. Here are more details:
Pareto CRM can make planning fast and easy. You can determine and set teams and individuals' goals, schedule a task, and assign it to qualified team members. Everyone can comment on projects to allow a smooth flow of suggestions, insights, and ideas, resulting in enhanced collaboration and better communication as well as productivity and better output.
Monitoring your project's progress is important to ensure you meet the deadline and expected quality of work. In this regard, Pareto CRM offers you with a clear and comprehensive view of all your projects, including related details, milestones and tasks, status, team members, logged activities, Gantt charts, total hours spent, and more. With all details easily accessible, you would know what is happening and what needs to be done for your projects in real-time.
Accurate invoicing also ensures that each party receives the fees due to them. To that end, the software is equipped with pre-made templates that you can fill out automatically and provide to your customers in one click. The integration with the leading payment gateways also helps you facilitate a smoother payment process and offer your clients with convenient payment selections.
Most of your clients probably want to take part in the process of project development. Thus, Pareto CRM is created to make this possible. The software allows you to create accounts for your clients and share project details with them such as deadlines, additional requests, project costs, milestones, and much more.