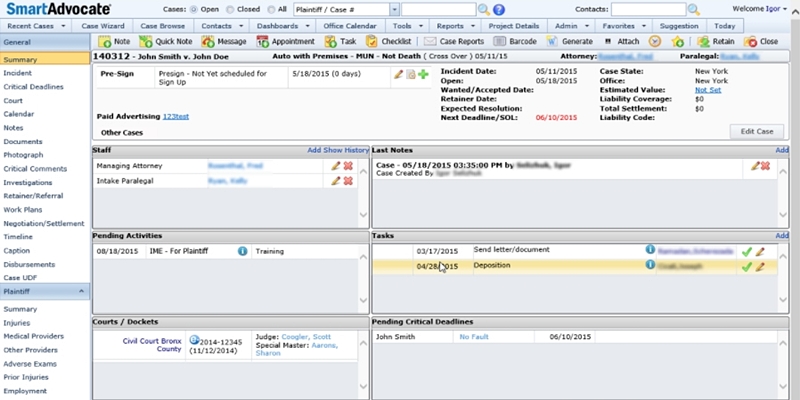 The main benefits of SmartAdvocate are its capabilities that let users manage their law firm operations more efficiently, the powerful built-in dashboards, email correspondence and automatic updates, and fully customizable case screens. Here are more details:
Efficiency
SmartAdvocate provides capabilities and tools that help law firms and law practitioners to manage their cases more efficiently. The platform comes with powerful features for managing simple and complicated tasks, storing information, and connecting teams.
Built-in Dashboards
SmartAdvocate's built-in dashboards let users track their tasks as well as their progress and see their status easily. The dashboards can also be customized according to the progress, documents, client communication, etc. You can also filter the dashboard according to case type, dates, and keywords.
Email Correspondence
With SmartAdvocate, you can use emails to channelize documents, reports, and other vital information directly towards clients without the need to use any third party websites. Also, the platform automatically sends the new case documents scanned using the platform to the assigned lawyers in the firm. So firm members will not miss any case.
Fully Customizable Case Screens
The platform comes with fully customizable case screens and "today's screen" where users can place all essential information about the existing cases, client appointments, team meetings, etc., making the process of searching for particular information faster and more convenient. Moreover, there are multiple screens where statutes about each case filed by a client are categorized and displayed. This feature lets users highlight the limitation for each case.