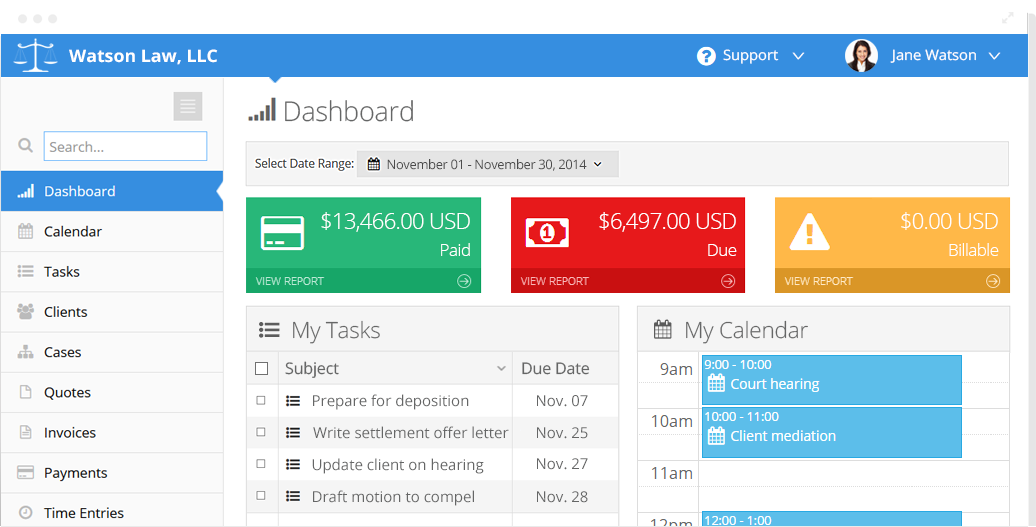 The benefits of PracticePanther are its legal management and CRM features, business and financial management capabilities, and transparency, security, and mobility. Read below to know more of PracticePanther's advantages:
Legal Management and CRM
PracticePanther is a cross between a CRM and legal management software. It provides legal professionals with a business management tool that's powerful enough to support the operations of a huge business but is designed especially for the legal industry. The application helps users manage their contacts, keep them up to date with their cases, and track important office matters. Users of PracticePanther can also add notes in their news feeds just like users of CRM software. Furthermore, multiple users for a single firm or department can use the application in their communications and even collaborate on cases using it.
Business and Financial Management
Business information and files can be stored in PracticePanther. You can store files of different formats such as Word documents or PDFs. The files saved on the application can also be saved to be accessed offline later. One important aspect that lends much value to PracticePanther for legal professionals is its billing-related functions. Users are provided with tools that will allow them to keep track of their billable time and expenses. Invoices are thus easy to make. Furthermore, there is a retainer alert function where users set a minimum amount of budget for clients and when this goes down, the application will notify them. This helps them decide whether to stop working or not for the client because of an insufficient retainer payment.
Transparency and Security
The mechanics and design of PracticePanther allow users to share important information to clients to keep their processes transparent. This is essential to the ethics of legal practice and business. Legal professionals can now share records on previous payments, invoices and other things such as the balances in operating and trust accounts. Furthermore, there is a client portal where users can collaborate with anyone through file sharing, assignment of tasks, and scheduling of events. All these are very sensitive information and PracticePanther users are assured that the application only uses the best security measures and practices to safeguard their data.
Mobility
PracticePanther can be used in mobile devices. This means users are able to keep track of office matters, their time, and their cases among other things even when they are on the go.