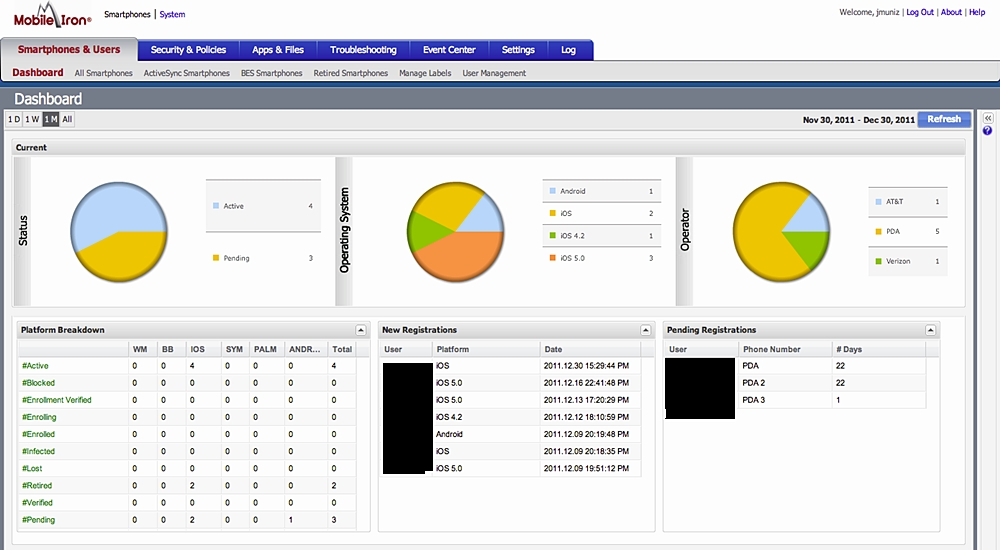 The main benefits of MobileIron EMM are it features remote management, it promotes BYOD and it secures data on your mobile devices. Here are the details:
Umbrella Management
With MobileIron EMM's help, businesses can manage a device fleet remotely without risking data security. This setup allows IT professionals to control the device lifecycle from policy deployment to monitoring and retiring.
MobileIronEMM also alleviates IT department stress through enabling the users to access the system on their own through a self-service portal. After that, IT teams can also apply security measures on company devices to avert jailbreaking and other security risks. This situation assures that the company safely holds its data and prevents illegal use while also giving employees freedom with their choice.
BYOD Support
MobileIronEMM allows smooth inclusion of new devices. Using the solution's self-service portal, employees can connect to the company system on their own. With this in place, employees can reduce desk calls, improve time management, and productivity since they have full control of their devices instantly.
Lastly, the app secures employees that their private data is safe while their devices are connected to the company system. MobileIron EMM stores the employee- and business-related apps all in the same device while keeping still keeping them separate to avoid issues.
Secure Enterprise Applications
The solution also gives a safe platform for employee productivity through allowing the company to control settings for business email, and apps throughout different mobile operating systems. Through this, companies can stay confident that business data can't be accessed by unauthorized apps and they are secure from any cyber threats.
Private and Secure System
With this solution, businesses and their employees can be confident that their devices are safe from malicious software. Business data can be encrypted and separated from the employee's personal files through app containerization. Through this, the IT department can observe business information easily.  Once the IT finds some suspicious data activity, they can remotely delete company info from the affiliated device.
Mobile Fleet Monitoring
MobileIronEMM also allows IT departments to follow mobile-based workflows and manage point-of-sale systems, kiosks, and more. The app also enables them to observe the usage of these remote systems from a single device to see if they're still safe from any threats and operating correctly. Using this app, businesses can rely on the software to manage their mobile fleets and business-related devices.