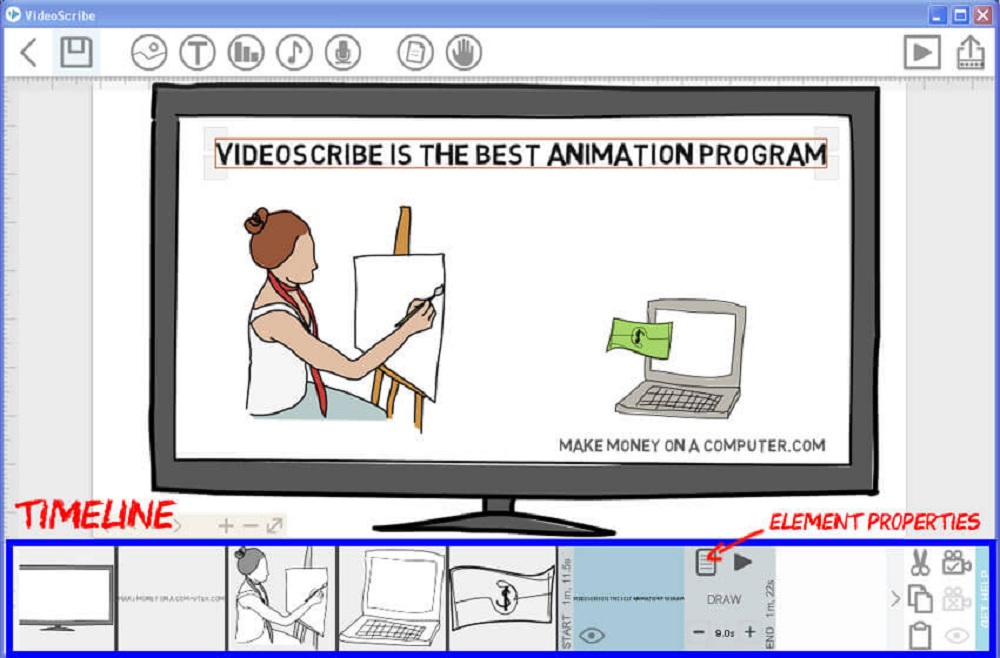 The main benefits of VideoScribe are its support for multiple platforms and different deployment options, cost-effective pricing, wide range of video making features and tools, and fast and easy way of creating animations. Here are more details:
Cross-platform and cloud compatible
VideoScribe is capable of creating videos on various platforms. It works with Windows and Mac and it also comes with mobile applications for iOS and Android devices. However, the apps for mobile have fewer features compared to the desktop version. Aside from that, VideoScribe allows users to work their project on the cloud and save it there as well. Meanwhile, they still have the option to work offline through download. Cross-platform compatibility combined with on-premise and cloud-based deployment gives users varied options of where and when they can utilize the software.
Varied pricing scheme
VideoScribe employs a varied pricing scheme, which is uncommon when it comes to whiteboard animation software. Users can opt to purchase a licensed copy through a one-time payment, a good choice for those who are planning to use the app indefinitely. Or, they can subscribe monthly or annually to the solution. This is ideal for occasional users and beginners.
Feature-rich
A unique aspect of VideoScribe is its support for all the basic functionalities without cluttering the interface or compromising the learning curve. The system is simple but at the same time contains a vast set of applications that could rival top-tier animation products. There are features that aid in the creation of users' own characters and layouts, setting texts, and programming movements, among others. There are different menus as well that feature sound and visual props which can significantly add richness and depth to videos.
Streamlined workflow for animation making
With VideoScribe, the creation of whiteboard animation is a breeze. It offers users a five-step process they can follow. First, images or texts are added then followed by setting animation times. After that, users can then record their voiceovers or import them to the app. Next, sounds are selected and finally, the content is published. This way, no matter if users are just getting started or seasoned editor, operating the platform is always easy. There is also a simple tutorial with sample videos that highlight all features necessary for users to learn.