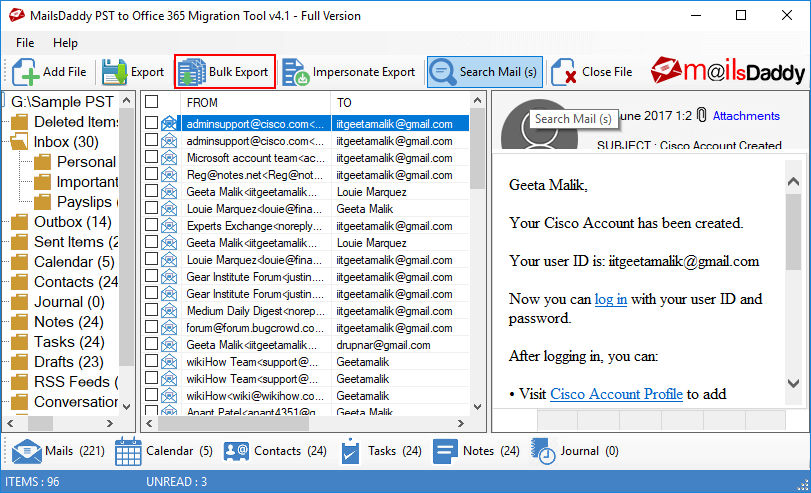 Smooth Migration
MailsDaddy PST to Office 365 Migration Tool guarantees frictionless, secure, and smooth moving of your PST files to your Office 365 platform. You can easily select PST files that you wish to migrate to your Office 365 with just a click.
Useful Preview Option
Before migrating your PST files to Office 365, you can create a preview of the PST files you wish to shift such as emails, attachments, calendars, contacts, tasks and others. This feature enables you to check the files you wish to convert before taking the decision to migrate them.
No Need for Powershell Commands
Other migration tools need full Powershell commands for the shifting, but not this software. This application has been designed using sophisticated algorithm that allows effortless converting of PST to Office 365 platform without the need for complex Powershell commands.
No Loss of Data and Format
In many tools, you lose hierarchy and format during the migration process. But, MailsDaddy PST to Office 365 Migration Tool reviews indicate that with this software you don't need to worry about hierarchy and folder getting changed. All your data will be migrated to your Office 365 account without alteration. In addition, the application ensures there is no data loss.
New Features in Version 4.1
The latest version of the software offers new features such as two exports options which are export to archive mailbox and export to primary mailbox. Business and Enterprise License buyers get additional features that enable them to import Outlook PST to Office 365 mailbox with impersonation and import multiple PST files to multiple Office 365 accounts utilizing bulk export option.