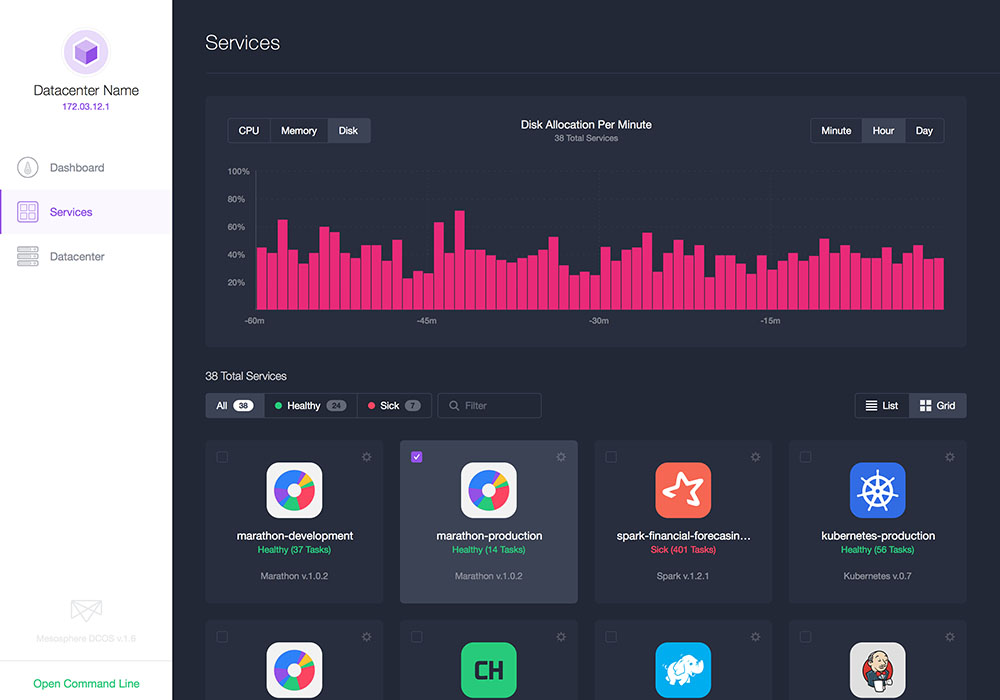 The main benefits of Mesosphere are it orchestrates the implementation, management, and monitoring of containerized applications and microservices, allows the intelligent handling of computing resources, and delivers convenient management and administration experiences to app developers, data center operators, and data scientists.
Orchestrate Deployment
Mesosphere makes it very simple for users to achieve automation and scalability. The platform is designed to orchestrate the deployment and management of containerized applications and microservices. These types of applications and services are very useful when it comes to streamlining their business processes and handling production workloads.
Resource Management Capabilities
Resource management is among the powerful features built within the distributed cloud operating system platform. Mesosphere makes sure that applications are equipped with all the compute resources they need in order for them to function and operate well regardless of which environment they are running, whether in the cloud, on-premises, or a virtualized environment.
For instance, Mesosphere allows users to implement and run data center services all at once by simply executing a single command. It supports the deployment of data center services such as Apache Hadoop, Spark, Kafka, YARN, and Kubernetes. In fact, these services and other computing resources can be provisioned and handled centrally within the platform. They can also let applications belonging to the same cluster share resources with each other and control how the resources are allocated across the applications.
Convenient Experiences
Mesosphere is being utilized by various types of users which include application developers, data center operators, and data scientists. The platform provides all these users with a high level of convenience as they perform their respective tasks. For example, app developers can build and configure applications and services within Mesosphere and instantly deploy them to various ecosystems and infrastructures. They will also be able to monitor the operations of those applications and services without the need to leave the platform.
Meanwhile, data center operators and data scientists can conveniently perform their tasks like tracking activities in the data center and controlling the flow of data between multiple applications or services all from a single visual interface.