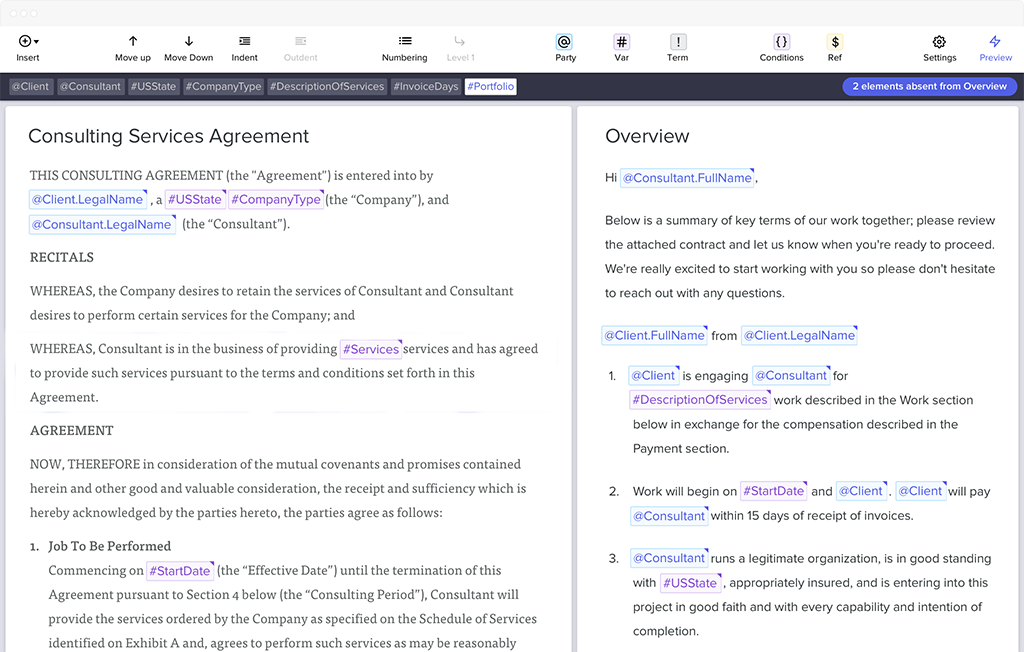 Outlaw gives you robust custom template authoring tools to speed up and simplify your entire contract process. With that, here are the benefits you'll gain from this web-based tool:
Simplified contract authoring
Outlaw reviews indicate the software functions as a word processor specifically designed for contract authoring. It gives users granular control in uploading and creating templates which are highly dynamic where you can include conditional clauses and smart variables. Preparing the contracts can be accomplished within seconds by simply answering a simple step-by-step questionnaire in simple language.
Minimized contract overview confusion
A simple overview in introducing your contract minimizes confusion. What sets it apart from other platforms is how it uses plain English that overlays each contract for the sender and recipient. Eliminating legal jargon ensures all parties can fully understand the contents of the contract without having to go through the tedious legalese. This, in turn, moves deals and agreements faster.
Contracts stored in the cloud
Since the contracts are stored in the cloud, they can easily be accessed anytime and anywhere according to Outlaw reviews. Errors are reduced by removing the "save as" functionality. Instead, editing contracts can be done in real time. If a signee wants to modify some contract terms, they can leave a comment which you can view in real time and make the necessary changes instantly. This reduces the unnecessary back-and-forth in the process of drafting and signing a contract.
Redlining & negotiation with full visibility
Redline, approve and track deal interactions at every stage of negotiation to ensure transparency & bulletproof resolution.