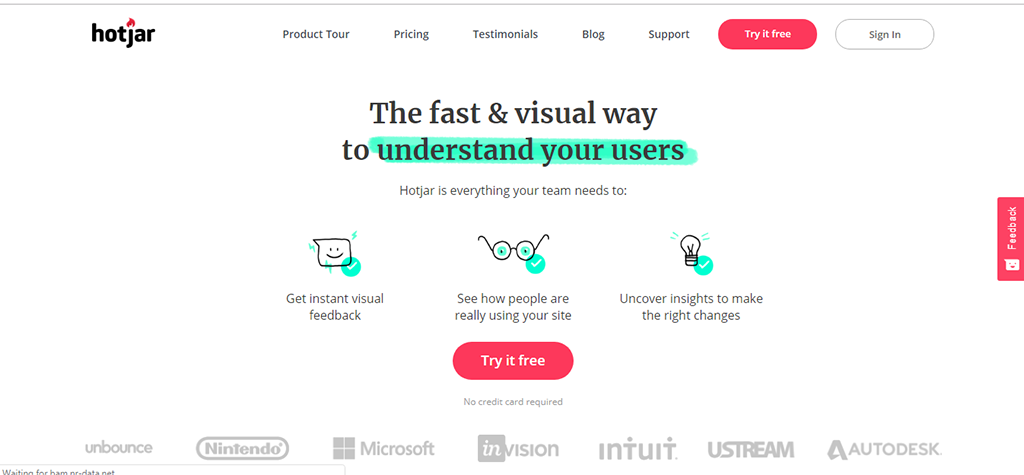 The main benefits of Hotjar is it helps sites having any amount of traffic – whether it's for personal use or for large businesses. These are the major benefits you'll gain from this software:
Gathering user feedback
Browsing Hotjar reviews shows us that the platform has robust features in helping you collect feedback from users. Visitors can directly tell you their thoughts based on question types that you configured. You can also create surveys for users to offer feedback in more detail. Instant feedback is also available for your visitors to quickly leave their opinions about your site from a customized widget.
Examining user behavior
Seeing how your visitors interact with your site uncovers vital information on how you can improve the user experience. The recording features let you see what visitors are actually seeing to help you identify any site issues. Heat maps will show what your users do and what they're interested about in your site. You can also improve your conversion funnels and forms using from discovering which areas you need to enhance and fix.
Catering to specific needs
Another thing we noted on checking Hotjar reviews, you don't have to worry about paying for a good-for-all plan that doesn't suit your needs. Instead, it has plans for different users: individuals, businesses, and agencies. This ensures you will pay for the features you need. Personal users with low traffic can even avail of a forever free plan with unlimited users. Meanwhile, businesses will pay based on the number of their daily pageviews. Meanwhile, agency plans offer a single account suitable for multiple client sites.
For details on Hotjar pricing check our pricing section below or visit vendor's official website.