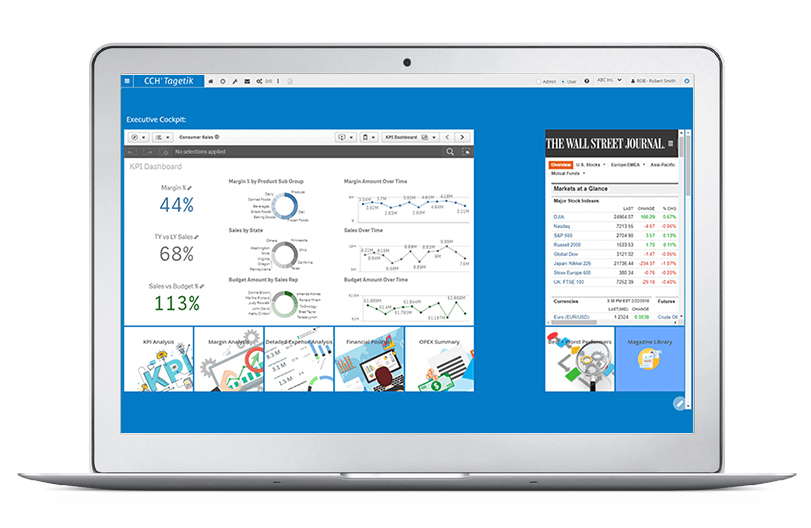 The main benefits of CCH Tagetik are its flexibility, intuitive and integrated platform, and great business insight. Here are the details:
CCH Tagetik is a flexible solution that can adapt to a variety of planning methods whether you are building a process from the ground or adopting the system to the current ones. CCH Tagetik can be integrated easily to begin collecting your data for more in-depth analysis once your data is scattered across the Excel spreadsheets.
CCH Tagetik brings together the on-premise and cloud-hosted solutions to create a powerfully integrated and intuitive financial management software. Through the help of customizable reporting selections and dashboard-based chat visualization, users can generate financial insight in real-time. Also, they can create embedded business intelligence such as currency translation, time-dependent hierarchies, and double-entry accounting logic.
CCH Tagetik offers finance units full visibility and data control for planning and managing workflow, forecasting, analysis, and reporting. Also, CCH Tagetik integrates with leading systems in the real of analytics and BI, ERP, CRM, and relational databases, and partners with SAP, Microsoft, and Qlik. Users can also make "what is" insight models on real-time information so they can acquire instant insights on profitability, cash flow, and performance. They can also combine easy online access with MS Excel and automate budgeting process.
The benefits of the software include greater insight, shorter cycles, smarter decision-making, and lower TCO. Users can use this solution to efficiently and productively work with less risk. Also, they can eliminate repetitive manual activities and make use of their time to perform effective strategies that reward profits and result.