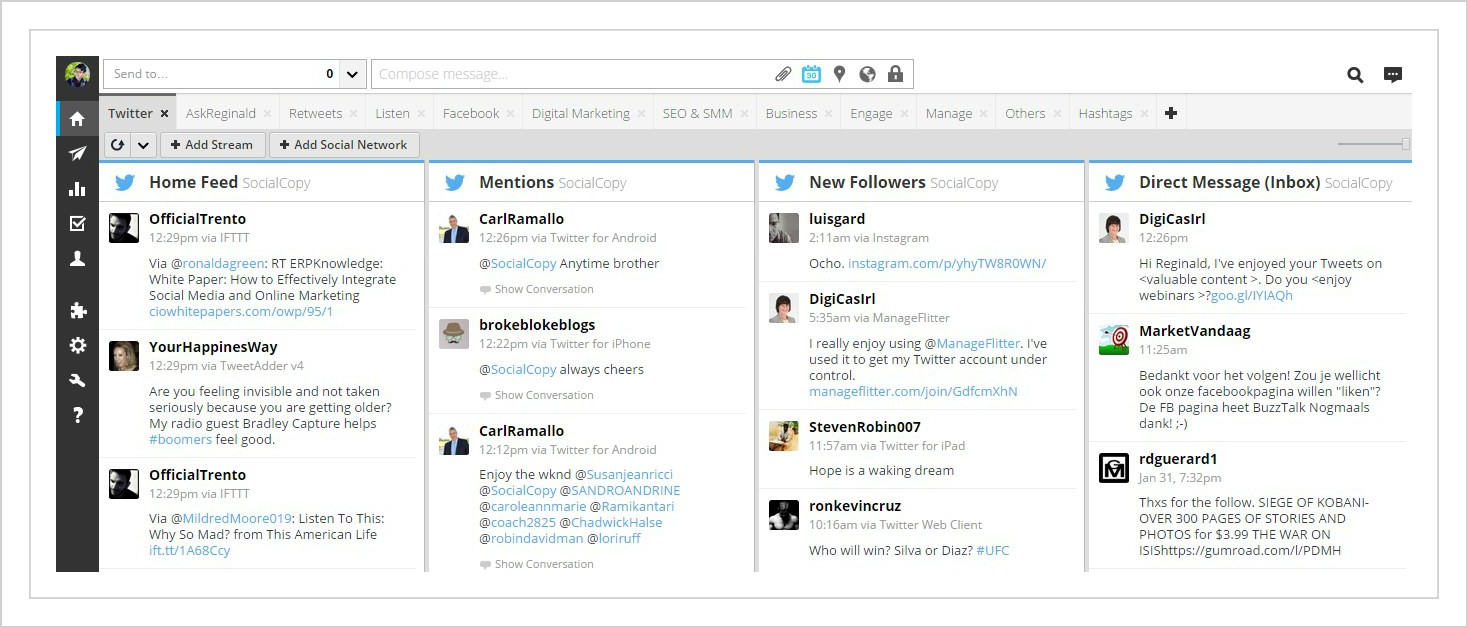 The main benefits of Hootsuite are unified social marketing, multi-platform connectivity, user access control, progress tracking, intelligence gathering and analytics, personalized reporting, enterprise-grade security, and multi-language support. It also lets users organize their social channels in one platform. To know more, here are the software's benefits in detail:
Unified Social Marketing
Users won't have to remember different passwords or go through each social channel just to double check as per Hootsuite reviews.  The platform empowers users to manage their own marketing campaigns across different social profiles on one system.
Multi-Platform Connectivity
Hootsuite reviews on the web also reveal it can help organizations post updates, connect with their followers and clients, and review responses on over a dozen social channels which include Facebook, WordPress-based blogs, Twitter, and Instagram. The tool can connect users to multiple platforms via the use of third-party apps such as Reddit, MailChimp, Vimeo, and Evernote.
User Access Control
The platform lets you manage contributors, data sharing, and accessibility without revealing passwords to others. Users can pick from numerous design themes. They can work intelligently through the use of social streams, tabs, and columns.
Progress Tracking
Team productivity can be enhanced by delegating messages, viewing responses, and keeping track of each member's progress. Delivery can be improved by scouting the best time and date possible for posting updates to ensure higher audience reach.
Intelligence Gathering and Analytics
Users can collect intelligence data by keeping track of mentions about their product, brand, industry, and search terms. Useful social analytics can be generated by choosing from many pre-installed templates and over 30 modules.
Personalized Reporting
Customized reports can be made to acquire data and insights on metrics that are considered important.
Enterprise-Grade Security
Big companies or corporate teams are offered full protection whenever they're posting content on social profiles for both their mobile and web-based accounts.
Multi-Language Support
Hootsuite provides support for Japanese, French, and Italian languages. The tool has plans to add more languages to its system soon.