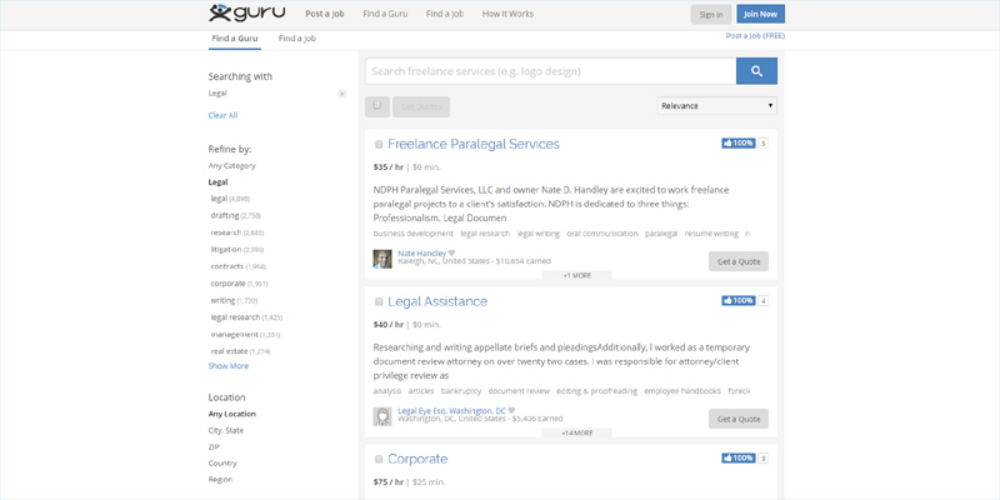 The main benefits of Guru.com are its fair fees, multiple payment methods, easy hiring, and comprehensive dashboard. Below are details of its benefits:
Enjoy Fair Fees
Guru.com only charges small fees for the processing of payments on its platform. There are other payments to be made by a job poster save this and if they feature a job or a service, it costs them $29.95. Furthermore, job posters are not billed for receiving proposals from gurus who are interested in taking projects. In this way, businesses and job posters incur no additional charges for basic communication functions in the marketplace.
Multiple Payment Methods for Convenience
Many employers already have a preferred method of payment. Guru.com recognizes this, thus it supports transactions other than electronic payment services and credit cards. Unlike other platforms, Guru.com accepts payments in the form of e-checks, checks, wire transfers, and in-website cash funds. This makes payment procedures more convenient.
Streamline Your Project Management
The platform of Guru.com includes a streamlined yet comprehensive dashboard where you can view and manage your projects in the website. Your dashboard allows you to communicate with the gurus that you hired, view the status and progress of projects, share files, and even track your guru's time. Workflow can be easily organized using its simple user interface.
Feature Your Projects
With Guru.com, you can feature your jobs to reach a greater number of gurus. This service, as mentioned, only costs $29.95 for your job to be featured for 30 days on top of the search results. This can increase the views of your job so it can catch the attention of qualified gurus that can send you their proposals.
Easy Hiring
Guru.com keeps things simple including the hiring process. Should an employer want a guru for a certain job, he or she only needs to sign the deal and the job order will automatically go through. This saves all parties time and hassle leading to a faster closing rate for projects.
Forge Long-Term Partnerships
The platform allows businesses and gurus to form long-term partnerships. Guru.com provides a list of preferred freelancers that have a good track record so businesses will not have a long and hard time perusing guru profiles. This allows job posters to save time and meet tested gurus who they can move forward with a one-off project or a long-term one.