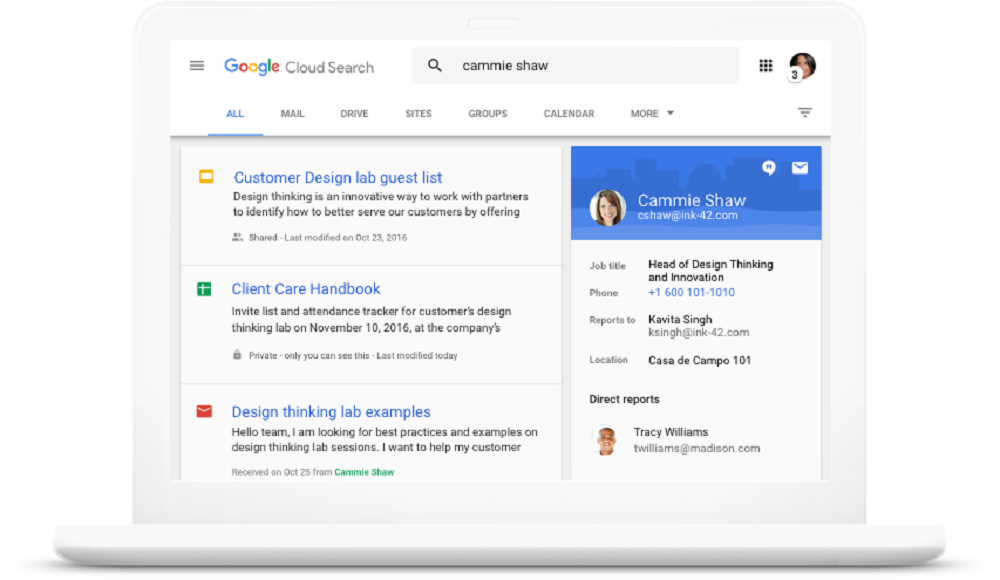 The main benefits of Google Cloud Search are its powerful searching capabilities anywhere within the entire G Suite, support for common language querying, customized filters for more personalized search, and more accurate search using operators. Here are more details:
Searching Capabilities Through G Suite Services
Google Cloud Search is designed to function as the main search tool used within G Suite services and products. This way, looking for specific contents or information within the G Suite is made a lot simpler and easier. It can be used to immediately search for shared documents including mentions, responses, and comments. Users can also use Google Cloud Search to easily look up business or personal emails, schedules, persons, etc.
Common Words Query Support
Google Cloud Search aids users to easily look for the information and content throughout the G Suite services and products by using common and simple languages. This means that users can enter every word in their search queries. For example, finding out the name of their teammates can be as simple as typing "Who are my teammates?" Other samples of simple language support in a query are "email sent yesterday," "schedule tomorrow," "documents about Mary's sales," and "docs that require my attention."
Customized Search Filters
Also, the search tool also searches queries to be customized so that the exact information or content being sought after is found more quickly. One way of customizing search queries is by utilizing filters. The search filters enable users to define which G Suite service or product the content would come from, what time was it created, who created it, or what type of file format is it saved on.
Search Operators
One more way of customizing search queries for a better chance of getting the exact content is through the use of search operators, which is a punctuation mark, a single word, or the combination of both. It is used for refining search queries in order to limit the scope, type, or range of information or content that would be returned.