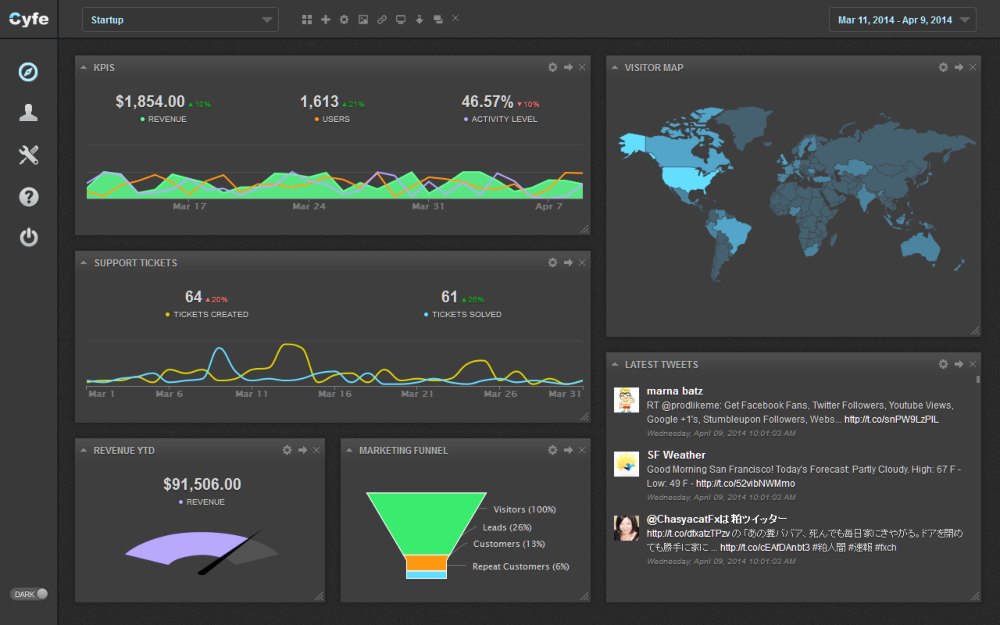 The main benefits of Cyfe are its monitoring function, its pre-built widgets, and its reporting functions.
The social media profiles, SEO, email marketing channels, SEM, and web analytics of a business can be easily monitored by Cyfe, and the tool can provide comprehensive insights on these aspects of the business. Cyfe also has a number of dashboards that can keep an eye on a number of websites, allowing users to effectively monitor all their departments.
Data can be collected from services like Google Analytics and Salesforce, thanks to Cyfe's long list of pre-built widgets. Even better, custom widgets can also be applied by the user and the Cyfe's Push API can be used to secure display from organization databases that are homegrown. Data can be easily exported or imported from any application or system, thanks to Cyfe's multiple integrations. Reports can be scheduled and downloaded in formats like PNG, JPEG, PDF, and CSV.
Reporting is easy with Cyfe, thanks to its comprehensive dashboards that summarizes, compares and shares data. With it, partners, managers, clients, and anybody else can be appraised of the situation of the company. Cyfe categorizes all the data in a system and stores it in a database that can be easily accessed when required.
Cyfe is also perfect for collaborations and meetings as dashboards can be automatically rotated to a big screen monitor, thanks to the TV mode. Cyfe can be customized to meet business needs and one way it demonstrates that is by allowing users to adjust their dashboards' backgrounds. Branded reports can also be drafted on Cyfe, and it can also be used to map a domain name.