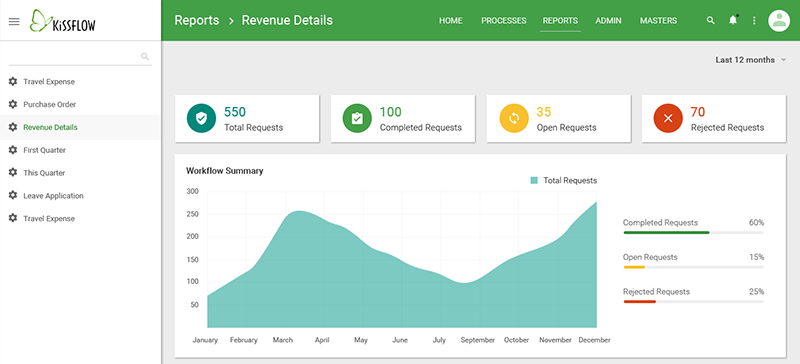 Experts agree that the competitive advantage of Kissflow is the human-centric nature of its workflow creation process, so that managers can map their workflows and operations more realistically and in compliance with their needs, rather than letting the system interpret them. What is even better is that the process is made easy enough to be completed even by the least savvy users. According to many companies, Kissflow is one of the rare systems that let businesses design stunning apps in less than 15 minutes. What is really surprising is that all this customization and intuitive usage is priced as low as $5 for a basic plan, while the transition to a higher enterprise-grade version is made painless. Interested companies are warmly invited to use the product's 14-days free trial, and examine the features before making a final decision.
If there's one recurring benefit you'll notice in many Kissflow reviews, it is that it doesn't limit the number of applications the user can create, and the same counts for reusing and replicating those apps across different departments. Thanks to the app wizard, the user can simply edit apps that are inside the database, and personalize them with different forms and input fields (data, time, drop downs, attachments, and many more). With all information inserted in the app, it will be easy for the manager to assign tasks both dynamically (using the desired formula) and statically (arranging permissions and roles in advance). The second method is recommended for creators looking to protect sensitive data, or to free users in the system from being notified upon unnecessary details.
In the system, you will find many other BPM widgets to simplify your day-to-day operations, and have a chance to apply human-driven business logic through parallel and conditional workflow. From the customization aspect, this system works with even 14 field types to make sure all relevant data is captured in your forms.