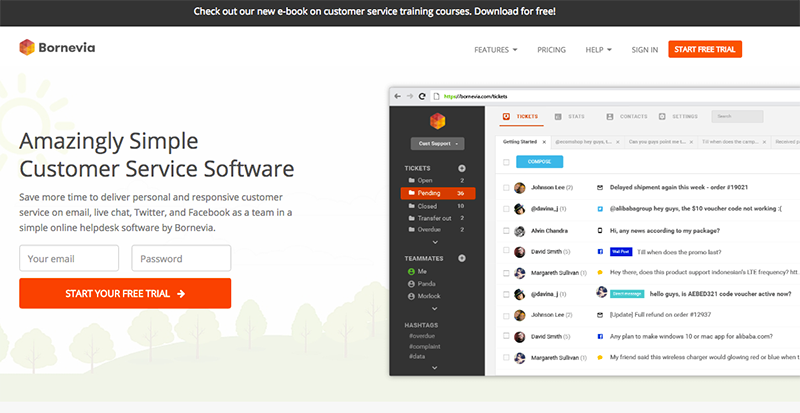 Bornevia is a helpdesk software that works just like regular email client. It is an ideal solution for small businesses as it offers only essential features and not gimmicky "bells and whistles". Companies can use the system to save time and deliver responsive and personalized customer support via live chat, email, Facebook, and Twitter.
If there's one recurring benefit you'll notice in many Bornevia reviews, it is that the system makes it easy to manage all customer support instances. It stores all live chat, email, Facebook, and Twitter conversations in one unified inbox where they can be processed in an environment that is similar to that of your standard email client.
Bornevia is a collaborative platform that offers team-oriented tools. All support agents and channels are grouped inside the team inbox feature. Agents can use private notes to collaborate with each other, know who is currently online in the system, and delegate tickets to one another.
Managers can use the reporting and analytics dashboard to track the team's response time, resolution time, total number of tickets handled, and the satisfaction level of individual customers. The system automatically sends a follow-up survey email to customers after their ticket is resolved. You can improve your team's productivity and service quality by learning where the agents need to improve based on individual metrics, volume, and response time. The solution provides all the tools managers need to make data-driven decisions.
Bornevia can be used to solve the following business problems:
It can help you manage incoming support tickets via channels like live chat and email. For instance, Jim owns a growing online organic food delivery company and plans to launch his homepage soon. He will display his new support email id on the homepage as well as the live chat widget. Bornevia helps Jim to effectively scale his customer service capability, and save plenty of time by responding to customers by combining live chat and email in this single helpdesk.
You can respond faster to customers. John is a customer support agent working for an online travel booking website. He receives a lot of email queries from customers on issues such as flight/hotel booking schedule, itinerary, and cancellations. John uses Bornevia to categorize these issues by tagging tickets and responds more quickly by using canned answers to reply to frequently asked questions.
Bornevia helps companies to onboard new agents quickly and track their performance. Hal heads customer support in a growing e-commerce company which has hired new reps who need be trained effectively. They can use the private notes feature to communicate with each other and with senior team members. Bornevia thus helps the agents to become productive quicker. Hal used the reporting and analytics dashboard and found that Bornevia has reduced by 25% the time it takes for a new agent to go from closing 1-3 support tickets per day to closing 6-10 tickets per day.