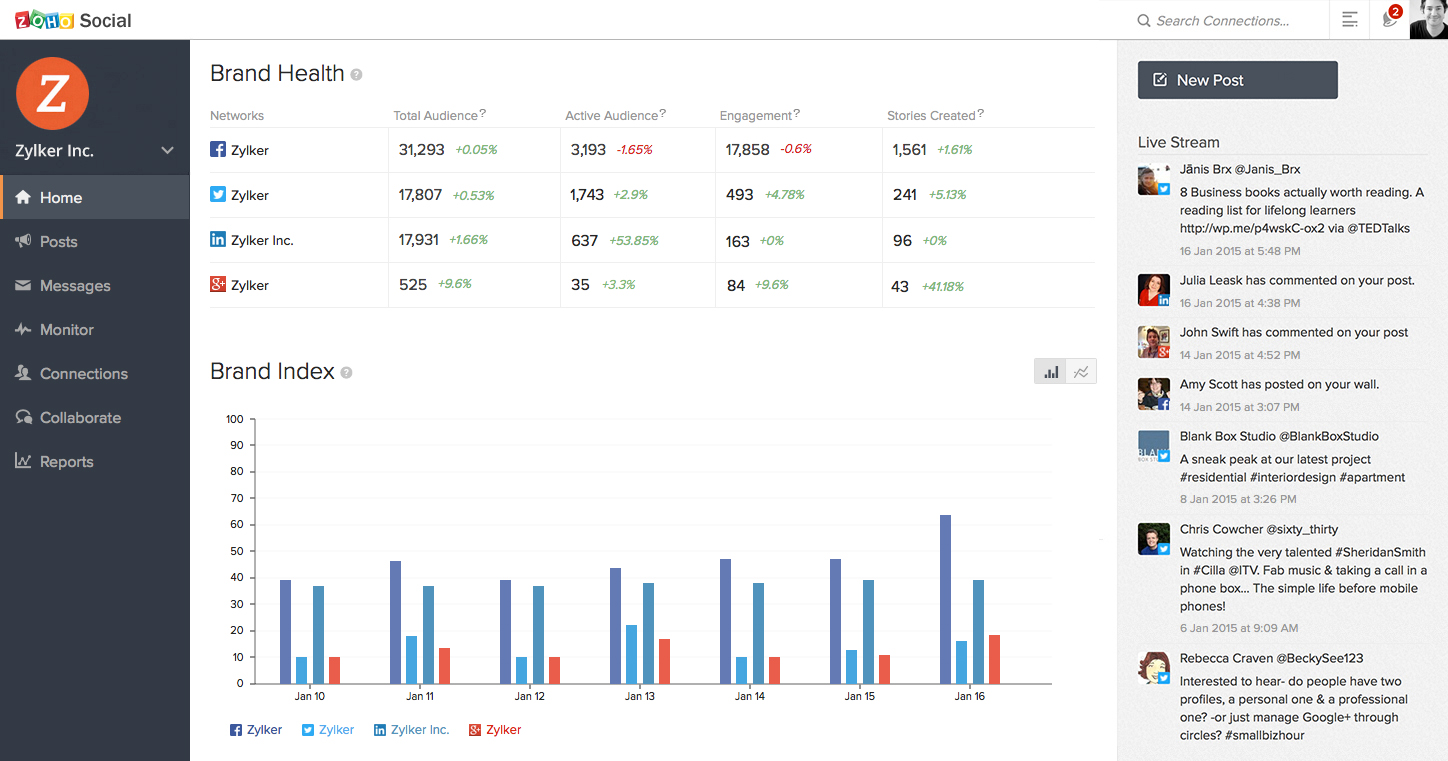 The benefits of Zoho Social are automated targeted engagements, an easy-to-use interface, a highly-integrated system, smart monitoring and collaboration tools, and insightful reports. Here's an in-depth view of the advantages you'll gain using this platform:
Automate Targeted Engagements
Many feel that automating social media processes will lead to impersonal engagements. This does not hold true for all cases and in situations. Useful tools like Zoho Social balance automation and high-quality engagements well. Users are first enabled to see the social landscape and identify the best people to engage with on social media, in what way, and when.
Using this data, you can tailor your messages, posts, and media to your audiences' liking and publish your content at the time when your target audience is active. With Zoho Social's SmartQ prediction engine, this is all a breeze. The tool considers Facebook posts by timezones and locations. Furthermore, the bulk scheduler feature allows you to create multiple posts and schedule their publishing times in one sitting. You can do this via your PC or on mobile.
Easy to Use and Highly Integrated
Zoho Social's user interface is easy to understand and manipulate. It has a SocialShare plug-in for Firefox and Chrome that enables users to share content instantly right from their browsers on the very same window.
Smart Monitoring and Collaboration
The smart monitoring tool allows users to track customers and base outreach strategies on accurate data. It is further complemented by the Brand Inbox feature that provides you with a single view of all messages across platforms.
Conversations are tracked in a way that you will be able to stay in context, as the communication history is available with just a few clicks. The search function also allows you to stay up to date with hashtags, events, and find prospects. You can save your searches in case you want to return to them in the future.
Additionally, Zoho Social's collaboration features allow multiple users to work together and brainstorm ideas for content, engagement tactics, and publishing schedules. Zoho Social has a good mix of monitoring and collaboration features that are perfect for a small social media team or a medium-sized online marketing consultancy firm.
Insightful reports
Social media reports are generated in the platform. These reports can be shared with your team and be the basis for planning. This is enriched by the statistics and analytics feature that provides insights through visual reports of data regarding performance and the quality of your brand's online presence.