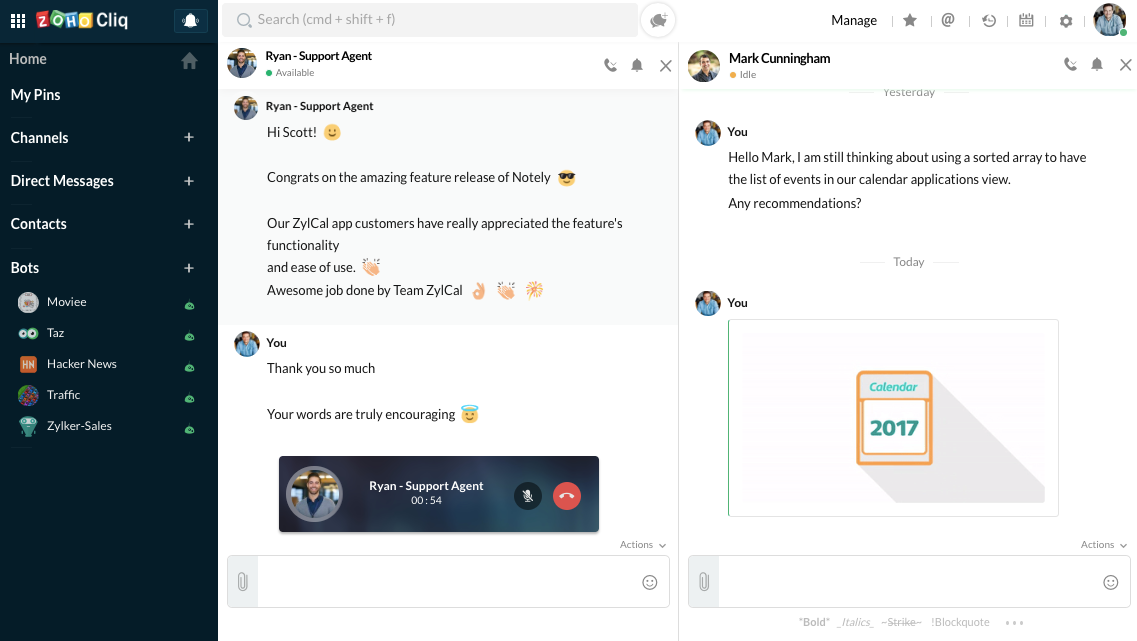 The main benefits of Zoho Cliq are its video and voice functionality that allows for effective collaboration and interaction with team members, easy drag-and-drop interface, friendliness to various devices, and unlimited usage. Specifically, here are the advantages users can expect from the platform:
Post Tracking
Users will no longer have to search tediously on important posts from lengthy threads. Zoho Cliq has a "fork" functionality that helps users isolate certain posts from one channel and converting those posts into a private message board. This can further the conversation about the selected topic to another member in private.
Built-In Call Option
Users can do video conferences or make audio calls without having to leave the chat room window or using separate tools.
Third-Party Integration
Zoho Cliq offers integration to all Zoho-based productivity and business tools. Users can have conversations with other Zoho users thanks to its multi-protocol feature. It also functions seamlessly with other leading third-party services and apps.
Easy Drag-and-Drop
The tool removes the need for attachments whenever files are being shared with other colleagues. Users can simply drag a file and drop it into the chat window, and then have it sent across.
Device Friendly
Zoho Cliq can be used on desktop PCs and laptops running Linux, Mac, and Window operating systems. It also works well with other compatible mobile devices running iOS and Android.
Unlimited Use
The software is free to use. It has plenty of features that users can take advantage of including a 100gb file storage capacity and unlimited video and voice calls. An affordable paid version is available and comes with more advanced features.