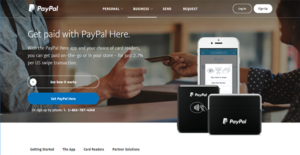 The main benefits of PayPal Here are its cost-effective application, easy connectivity, multiple payment options, chargeback protection, comprehensive inventory management, user access settings, and customizable reports. Here's more information:
Cost-Effective Application
PayPal Here is a downloadable app in Google Play or Apple App Store for free. The app only charges minimal fees when the customer starts reading cards and does transactions. Everything is transparent, thus there are no hidden charges that can upset customer relations.
Easy Connectivity
PayPal here also has dongles that allow you to have the option to use your device to accept payments. This includes the Bluetooth card reader for contactless transactions with your tablets or smartphones.
Multiple Payment Options
With multiple card reading options, the user can conduct various transactions in different businesses. This is an advantage for business owners who aim to expand their operations in terms of payments and services. It can accommodate your clienteles' payment methods since it goes beyond magstripe and chip card payments.
Chargeback Protection
After setting up their accounts, businesses are given the chance to create their return policies and card statements to minimize charges.
Inventory Management
With PayPal Here, you can manage your inventory so that it can automatically adjust to the changes in prices and taxes.
User Access Settings
The app also allows you to manage and customize your operations, as it can accommodate 1,000 additional users in one account. As such, you can assign roles and adjust their access levels in your operations. With these features, you can ensure that employees have access to tools for performing their assigned tasks. 
Customizable Reports
Along with its inventory management feature, PayPal Here updates business owners on their sales performance. It has the option to generate reports according to certain metrics, as well as the date, item, and other characteristics.