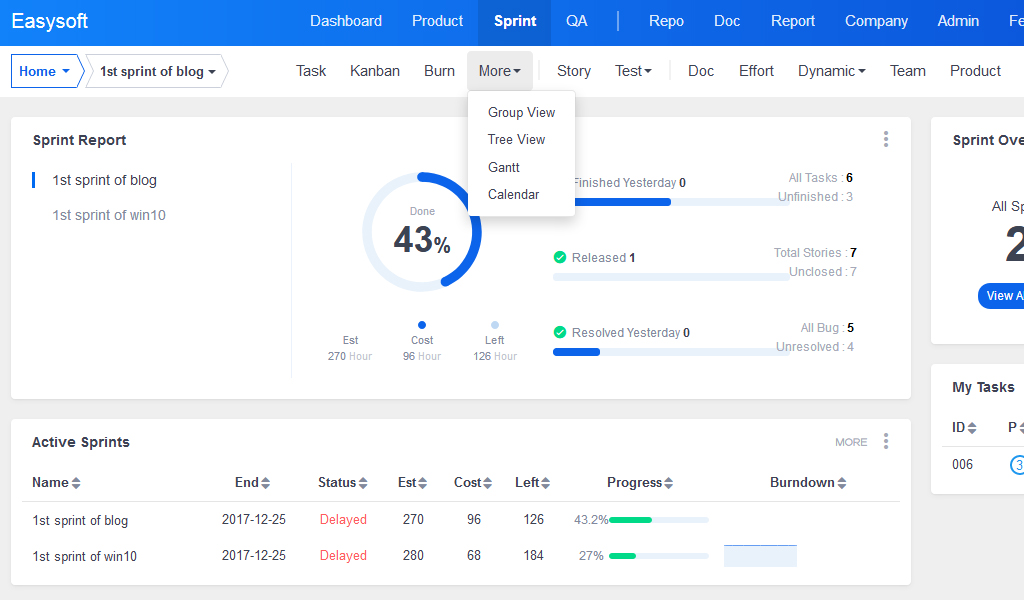 The main benefits of ZenTao are its robust project management tools, customizable, great document management, and flexibility.  ZenTao offers myriad benefits to software developers, namely:
Project Management
ZenTao was created to make software development and business management a breeze through organized collaboration. It incorporates the use of Gantt Charts and Burndown Charts to allow users to fully maximize time and zone in on productivity. With its robust project management tools, budget planning and scheduling are easier. Users can manage projects based on tasks, stories, defects, and bugs.
Open Source
ZenTao is fully customizable. ZenTao was developed with an understanding of the importance of freedom and collaboration. Given that it's open source, users can fully tailor fit the software to their development and business needs. It allows users to tweak and add functions to their liking so that it fits their business model effortlessly.
Document Management
ZenTao allows its users to preview and edit documents online. It also has a library function that allows users to store and curate documents relevant to products and projects in an organized manner similar to that of a library. It's accessible to all and makes referencing and development easier. Users can also import Word and Excel files.
Personnel
ZenTao also manages personnel attendance. Through its function, users can easily ascertain manpower concerns. It monitors absences and tardiness. It takes notes of legal holidays, scheduled leaves, and overtimes.
Flexible
Aware of varying business models, ZenTao allows users to make their individual business choices every step of the way. All options can be catered to exclusive business needs. Agile and versatile, users can opt to go cloud-based or local. Extensions and plug-ins are also easily integrated.