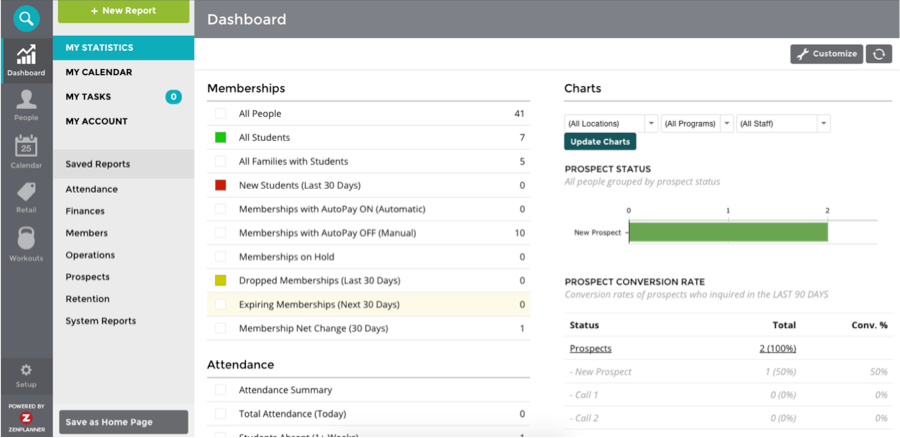 The benefits of Zen Planner are its ability to address the needs of fitness industry users, its user-friendliness, and its automation of tasks. Here are more details:
Built by fitness experts
Zen Planner was designed with the input of not just entrepreneurs, but also fitness experts. Users can be sure that its tools and functions truly address the needs of gyms, fitness clubs, and similar businesses. This leads to profits and growth for the business.
User-friendly
Zen Planner makes it easy for owners to keep track of the health of their business. With its dashboard, features and functions like billing and payment options, membership data and attendance, and reporting tools can be easily accessed and viewed.
Task automation
Important operations and processes are simplified and streamlined with Zen Planner. Its automation functions can be implemented on attendance tracking, billing, staff notifications, emails to members, and member monitoring. This stops team members from spending too much time on administrative functions.
Marketing tools
Marketing tasks are easier with Zen Planner. Automation, conversion tracking, and lead forms help business owners better execute marketing strategies. Merchandise can be sold online with Zen Planner's integrated storefront. Other marketing functions include tracking the rate of conversion of prospects and customizing event registration. Apps can also be embedded or added on websites. A business's capability to nurture leads can also be enhanced with an Infusionsoft integration.
Simplified scheduling
Zen Planner's ability to synchronize the slot and time availability of instructors and members effectively gets rid of scheduling conflicts and double bookings. Other scheduling solutions provided by Zen Planner include automated reminders and calendars that are embeddable and can provide updates in real-time. Staff can also use the system to time in and out. On the other hand, the members can make reservations on the go using the mobile app, while the staff app lets them view the day's classes and schedules.
In-depth reports
With dashboard and reporting features, fitness business owners can keep themselves aware of the health of their business. Customized and exportable reports are provided, and business owners can also set up notifications that remind them when they receive important data or to follow up on crucial tasks.