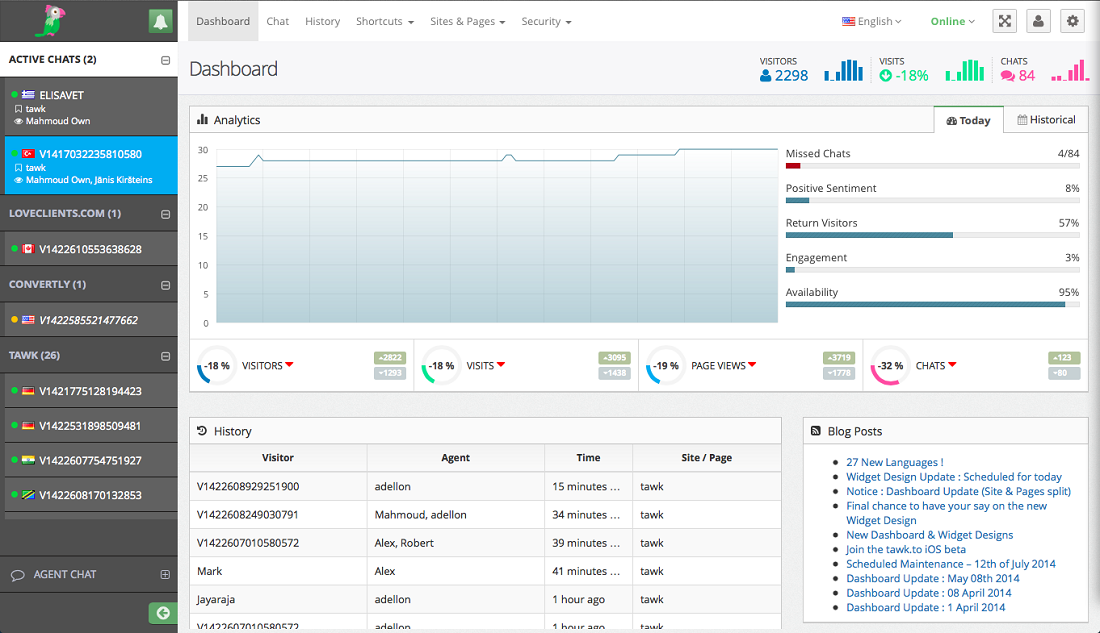 The main benefits of Tawk.to are it allows your business to be always ready to interact with clients or potential clients, tailors to suit your brand, provides an avenue for engaging conversation with customers and it is available in several languages and devices. Here are more details:
Constant availability to customers
Two major requirements for a successful business are the quality of service or products rendered and the efficiency of meeting the customer's needs and demands. Businesses hire workers and use all the communication outlets they have in order to meet these needs and Tawk.to is an ideal platform for such an aim. It is a good avenue for showcasing your services because your business is available any time your customer needs you.
Tawk.to is also equipped with unlimited agents and group features that allow your business to monitor visitor traffic. You'll be able to attend to multiple visitors at once when there is a shortage of active agents available. Other agents can also join in ongoing chats to ensure that customers are given the help they require.
Customizable
Tawk.to is easy to set up and customize. Its widgets can be configured and you are free to change attention bubbles, chat colors, and personalized uploads. It can be tailored completely to suit your brand, thus, enabling you to insert your own brand name. With this, you can give the application a more professional and original look and feel.
Engaging conversation with clients
Tawk.to enables you to be mindful of your customer by using canned shortcuts and automated triggers to engage them in conversations. Your agents can also be prepared to answer questions from clients even before they start chatting with them through the sneak peek feature. Afterward, they can continue the conversation in a fun and relaxed manner by having over 1,800 emoji available for use.
Multi-language and cross-platform
The application makes itself available wherever you are or whatever language you speak because it can be utilized in 27 languages. It also works smoothly with Windows, macOS, iOS, and Android devices.