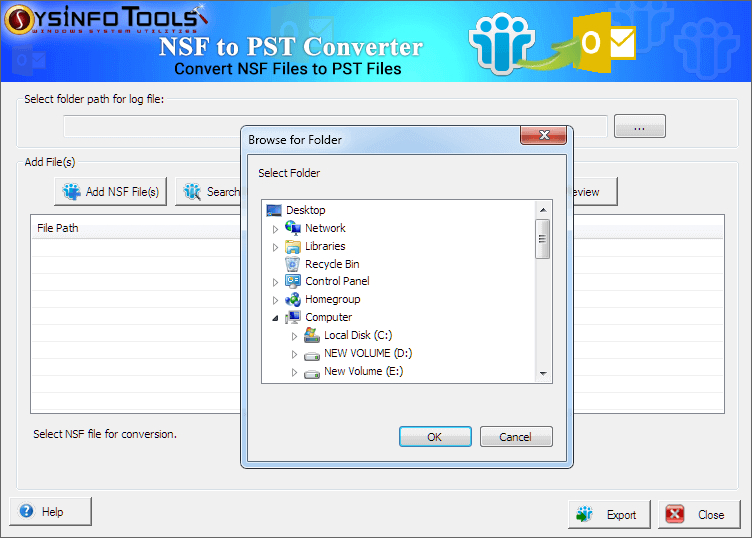 SysInfo Tools NSF to PST Converter's latest version (7.0) has a more interactive and robust user interface that does not need any technical expertise. Even lay users can utilize this application with ease. The tool efficiently converts whole NSF files into Outlook PST format without the need for manual effort. You can migrate entire Lotus Notes emails, journals, notes, to-do lists, calendar, contacts and more without altering the data.
Users can export single as well as multiple NSF files to PST. To transfer multiple NSF files, use the "Add Files" feature to choose all of them. If you are not aware of where the NSF files are stored or the correct location of the NSF database, use the "Search" feature to find the NSF files, folder or sub-folder.
The smart file Preview feature shows you the selected files in a tree-structure mode. You can expand this structure one after one to preview the mailbox content and ensure the correct NSF files are chosen for transfer. SysInfoTools NSF to PST Converter reviews indicate that the software removes encryption during NSF to PST migration. However, it doesn't remove encryption in the original NSF files.
The latest version (7.0) of the tool offers additional features such as large file support and NSF database files up to 50 GB have been tested successfully. Plus, specific folders that contain the mailbox content are highlighted and seen in bold letters. During batch NSF to PST migration, the "Exclude All" folder choice is enabled. To disable it, go to the advanced settings and uncheck it. Finally, the updated version comes with no bugs as all the internal bugs in the previous version have been eliminated successfully.