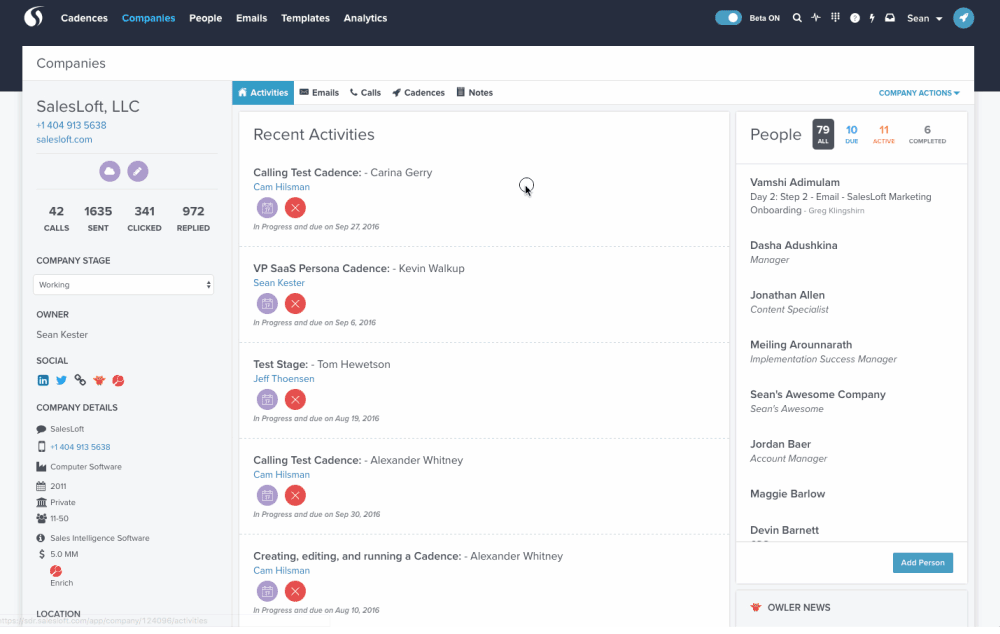 The main benefits of SalesLoft are its features and tools for email marketing, communication management features, and its capability to accelerate the performance of sale development. Here are more details:
Powerful email marketing solution
SalesLoft enables users to create a workflow that gives sales developments representative the ability to create email templates for sales and share them with the entire team. They are also able to track, open, and respond to emails. The system's ability to connect to an email server directly enables emails to be sent from the users, giving them the authority and access to open, click, and respond to emails. SalesLoft is also equipped with personalization options to customize groups of emails by tapping into the custom fields to tailor every message with dynamic tags.
Communication management
The system combines emails and phones to track every communication activities in just a single platform. Then the engagement can be used for the next activity. Users are able to automatically execute call lists, which streamlines sales calls making it simpler and requiring less effort. It can also automatically populate prospect time zones, which helps users in calling at the right time. This is a valuable factor for giving better engagement and increasing connection. There are also other features like built-in call recording and voice drop that aid users in making more convenient and easy sales calls.
Speeds up sales development performance
SalesLoft aids businesses in accelerating their sales development performance through real-time actionable insights, reporting, and analytics. Data can be used for obtaining actionable insights such as the ideal time to make calls and send emails that have the most chance of reply and higher conversion rates.