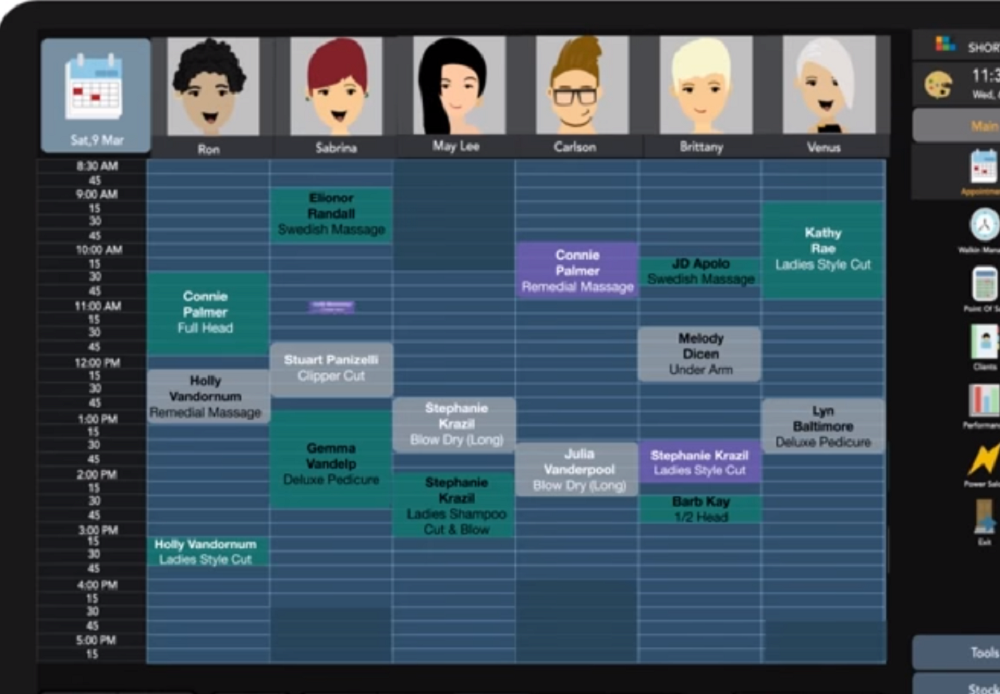 The main benefits of Shortcuts Hair Salon Software are its streamlined front desk functions, intelligent POS system, online booking avenue, automated marketing functionality, and comprehensive reporting features. Here are more details:
Streamlined Front Desk Functions
Shortcuts Hair Salon Software makes front desk functions more efficient thanks to its intuitive and smooth appointment booking feature. It uses touchscreen functionality, making reservation and appointment management a lot quicker and easier. Plus, double bookings are also avoided. It's versatile and nimble which means that it can perform other functions as well such as changing dates, resetting schedules, and resizing staff to meet changes and demands in the business.
Smart POS System
The platform features a smart POS (Point-of-Sale) system which can simplify a lot of transactions. It can also automatically compile every client's history and performance statistics. Furthermore, users are provided with the option of automatically applying discounts if a particular set of conditions is met, reducing the need to manually enter discount codes. This POS can also check out many clients in one transaction quickly and easily.
Online Booking
Most people now go online in order to book their appointments and Shortcuts Hair Salon Software makes sure that users can take advantage of this trend by offering clients an online avenue. This is a place where clients can book for the business' services and they can even pay upfront. It's a smart application that is capable of detecting and preventing double bookings and scheduling overlaps.
Automated Marketing
Shortcuts Hair Salon Software has an automated marketing feature that allows users to be always in touch with their clients. This tool informs the clients about updated services, latest promotions, and other relevant information. Email marketing campaigns are automatically implemented by setting a variety of triggers such as previous visits, personal information, and customer's history. Every sent campaign aims to deliver personalized communications to clients throughout the entire year.
Reporting Tools
If users want to know where their business stand, Shortcuts Hair Salon Software assists them in tracking their performance effectively. It even provides them with a concise measurement of how they are doing against the benchmark in the industry. This is all done by the reporting tools which present details about the business, the areas where they excel and the aspects that need improvement. This can all be analyzed and acted upon to promote business growth and generate more income.