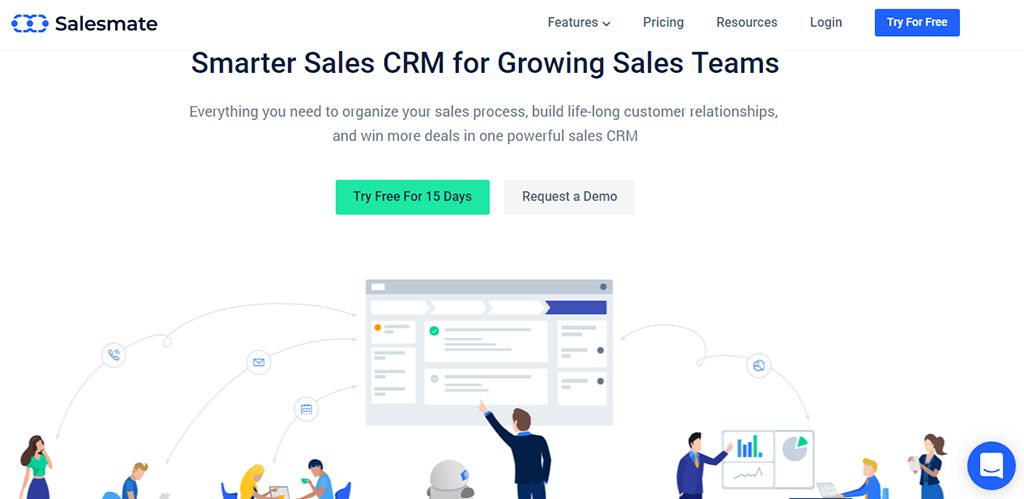 Salesmate helps you tap into valuable data of your sales and customers to drive sales and improve customer relationships from any device—from your desktop and laptop to your iOS and Android mobile devices. Offering a robust set of features, here are some of the benefits you'll get from this tool:
Drive More Sales
Sales representatives and managers can keep track of all deals in their sales lifecycle in the sales pipeline as per Salesmate reviews. It lets you add, assign, and monitor deal activities to close deals faster and eliminate guesswork. Sales activity tracker enables you to plan your team's activities ahead and automate steps in your sales operations.
Streamline Communication
To know when you have your prospect's attention and follow up immediately at the right moment, it has email tracking automatically monitor email conversations. Meanwhile, Salesmate's built-in virtual phone system ensures you keep in touch with your customers and prospects through call or text message for seamless communication.
Improve Productivity
Salesmate's deal management solution acts as a visual indicator of your deal cycle in the sales pipeline to determine when and where to take necessary actions. Sales process steps and low-value tasks can be put on autopilot using the workflow automation tool and data entry automation to free your team from repetitive tasks. It also has contact management for staying conversant with your contacts.
Gain Visibility
Setting up actionable goals and transforming strategies into tangible plans empower your team to achieve business goals efficiently. Meanwhile, interactive, pre-built and customizable sales reports enhance your entire sales funnel by empowering you to make smart, data-driven decisions. Salesmate also has a sales forecasting feature for optimizing your sales performance and estimating your revenue.
Extend Functionality
The secure and reliable sales CRM software offers a separate database for your data with secure encrypted connection and best-in-class actress controls. Salesmate reviews also indicate it integrates seamlessly with a wide array of third-party apps for additional functionalities. Flexible to fit any business size, this tool also gives you a two-way Google Apps (G-Suite) sync to empower your CRM solution.