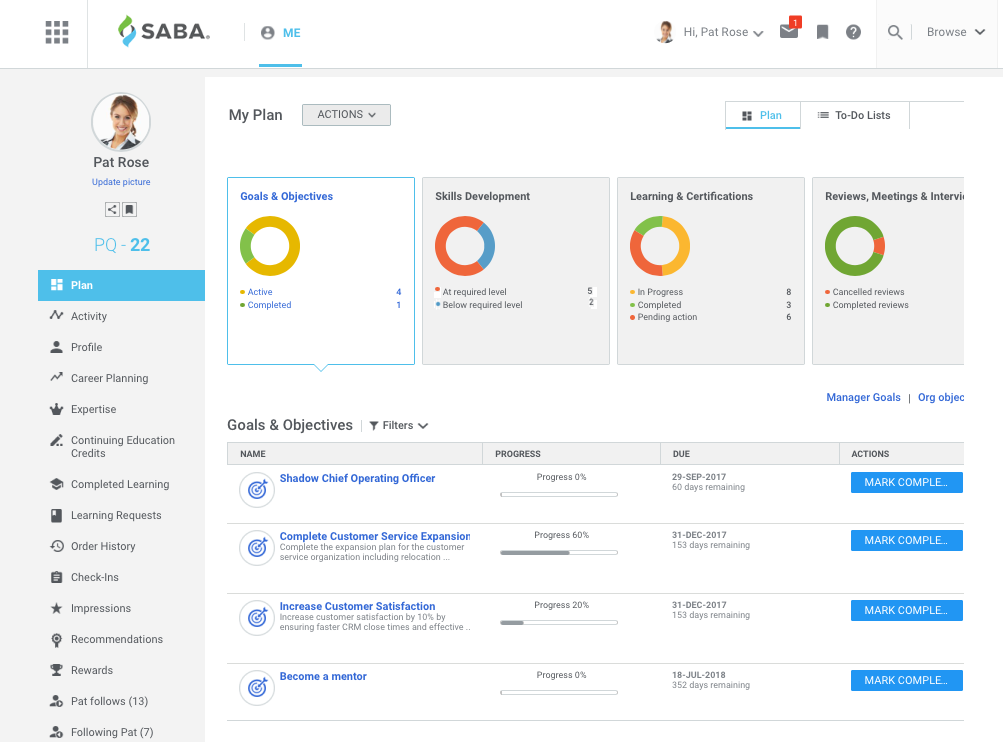 The main benefits of Saba Learning are its end-to-end learning management solutions and a wide range of capabilities. Here are more details:
All-in-one solution for building a highly skilled and adept workforce
Expert trainers using relevant materials in structured classes facilitate the development of all essential personnel in businesses. Saba Learning has access to thousands of reliable eLearning courses, integrations with top systems, and partnership with leading business organizations, ensuring your employees will be provided with top-notch learning experiences.
Coaching and collaborating between learners and trainers will never be a problem with the help of web and video meetings conducted online. To make sure that the learning programs do their purpose, assessments, evaluations, and surveys can be done to determine which aspects need improvement.
Offers a wide array of capabilities
Saba provides numerous capabilities, including, but not limited to, comprehensive learning management, informal learning, social learning, video learning, microlearning, and career growth and development.
As a comprehensive learning management, users or businesses can have access to limitless options for learning programs. Users can customize or build a program which fits the needs of a growing business and their culture.
With the informal learning, users can educate themselves through the aid of learning resources available online while still being able to measure and track the impact as well as the effectiveness of it all.
To engage the learners, Saba Learning offers a comprehensive set of social, feedback, and collaborative tools. The platform can also help you bring some high performing, secure, and relevant video content to your learning programs so those who learn better through watching videos can have something to fit their learning style.
Microlearning, on the other hand, is for learners who are busy. The career growth and development allows the user to align their learning as well as career development plans.