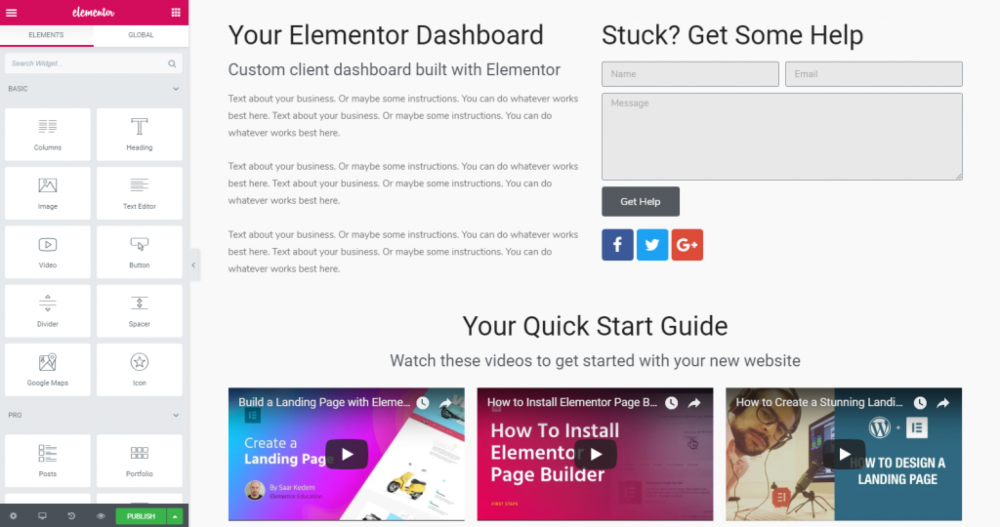 The main benefits of Elementor are its ability to give designers full control, its dynamic scaling, and its premium designs.
Elementor's basic structure is made up of page sections where the content and layout of the web pages can be determined. These sections are divided into columns, and allow designers to exert total control of how their WordPress pages and websites will look.
The height and width of each page section, as well as the columns within each section, can be resized through simple grabbing and dragging. Column gaps can also be adjusted. All of these can be utilized so that the page or website doesn't end up looking cluttered and can fit the layout the designer has in mind.
Designers can ensure that the website design can be comfortably viewed by the mobile audience with the use of margin and padding settings. Widgets, columns, and sections can be scaled with these settings, allowing for dynamic resizing that ensures an optimal viewing experience on mobile.
Column positions can also be determined by designers when they use Elementor. Columns can be stretched out to fit a whole section or can be placed at the bottom or the top of a section. The same goes for the content contained in the column.
The pre-designed templates that come with Elementor can also be customized then saved as entirely new design templates. Users can even share their page designs with other designers or reuse it for other websites, thanks to the export and import functionalities.
Elementor frees its users from generic and simple page designs by allowing them to use color palettes, experiment with fonts, adjust the background and border settings, select widgets and icons, and even control pixels.
WordPress developers will appreciate the fact that Elementor and its open-source architecture allows for the customization, enhancement, and extension of already existing functionalities. CSS for widgets, columns, and sections can be created and added to a webpage. WordPress widgets and plugins can be embedded into the page builder without having to involve a line of coding.