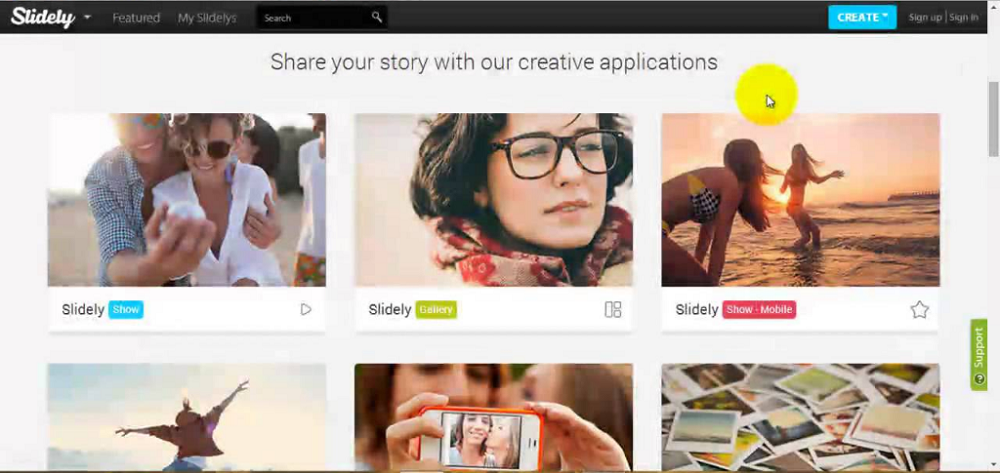 The main benefits of Slidely are its capability to create marketing videos, music videos and stunning photo galleries and collage, a mobile app for enhancing and sharing videos, and the feature for capturing photos and sequences. Here are more details:
Marketing videos
Slidely has a feature called Promo which aids businesses, creatives, and online marketers to come up with content and videos they need for product promotion and marketing campaigns. Through this service, users are given access to a huge amount of premium video clips as well as hand-picked music. Furthermore, they can also add logos and texts to their videos quickly. Promo is a versatile video production service that can be used for creating product teasers, promoting brand awareness, driving more traffic to your website, and reducing cost per click.
Mobile sharing of videos
Slidely can transform images and videos into stunning movies and video slideshows. This is thanks to the system's mobile application that allows users to design and create beautiful and meaningful movies and video slideshows straight from their mobile devices. There are themes available to choose from and songs can be added. Once done, users can then share their production online.
Music videos
The platform empowers users to create music videos that they can upload to YouTube, save to their device, or share with anyone. There are music and effects that can be integrated into the videos and the scenes can be joined together. Users can create music videos from their iPhone as well.
Photos and sequences capturing
Slidely is capable of capturing sequences and photos. This is an ideal feature for capturing perfect moments and users can also add fun effects and stickers to them.
Stunning photo collages and galleries
Through Slidely, creating stunning photo collages and galleries is easy, really handy for producing beautiful postcards and similar things. Users can also turn collages into video slideshows or animated image gallery. Fun video slideshows can be created through photo remixing.