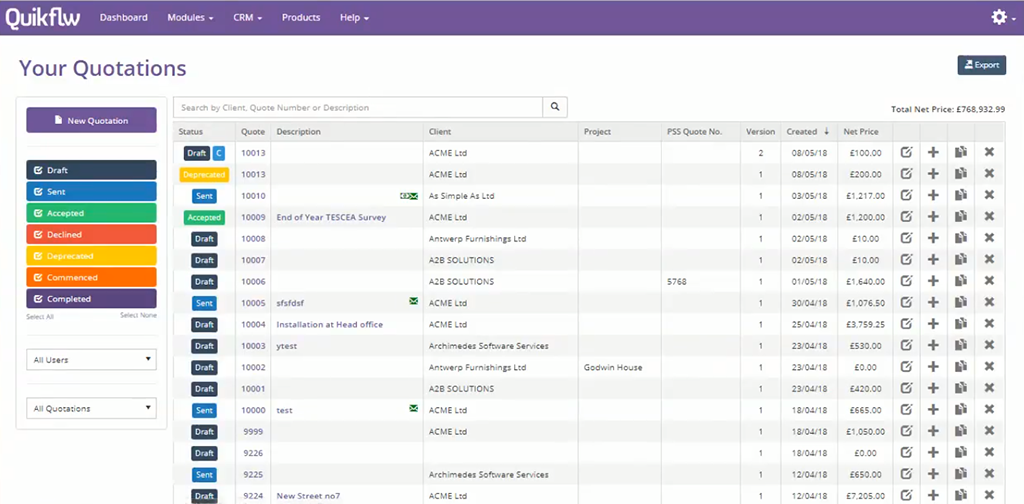 Quikflw is a reliable tool in automating your quoting and invoicing tasks online. Here are some of this software's benefits:
Various Invoicing and Quoting Tools
Quikflw is an easy-to-use platform that automates various repetitive tasks to eliminate manual data entry from your workflows. It has a wide array of modules that include Quotations, Jobs/Projects, Delivery Notes, Invoices, Purchase Orders, and Stock Control/Inventory Management. It also has its own CRM system for tracking customer information and interactions.
Create Professional Documents
A couple of Quikflw reviews indicate the platform helps users streamline the creation and delivery of personalized, professional-looking documents. It offers existing PDF templates or you may customize your own to match your business branding. The software gives you complete control over how you want your invoices, quotes, order confirmations, purchase orders and delivery notes to look.
Centralized Sales Workflow
From a single dashboard, you can manage your entire business workflow—from quotation and sales order to delivery note and invoices—with ease. The system simplifies moving of orders that the whole team can access. It optimizes conversion of workflows and generates purchase orders at a single click of a button from quotes or jobs. Clients can accept quotations and confirmations on a webpage which automatically updates the system and sends you a notification.
Manage Staff Access
Based on our Quikflw reviews, users can stay on top of user management and access. This is highly customizable as you can choose which accounts can view invoices. You can set which users can access which modules by simply ticking off among quotations, jobs, delivery notes, invoices, and purchase orders. You can also assign them specific user roles with own privileges.