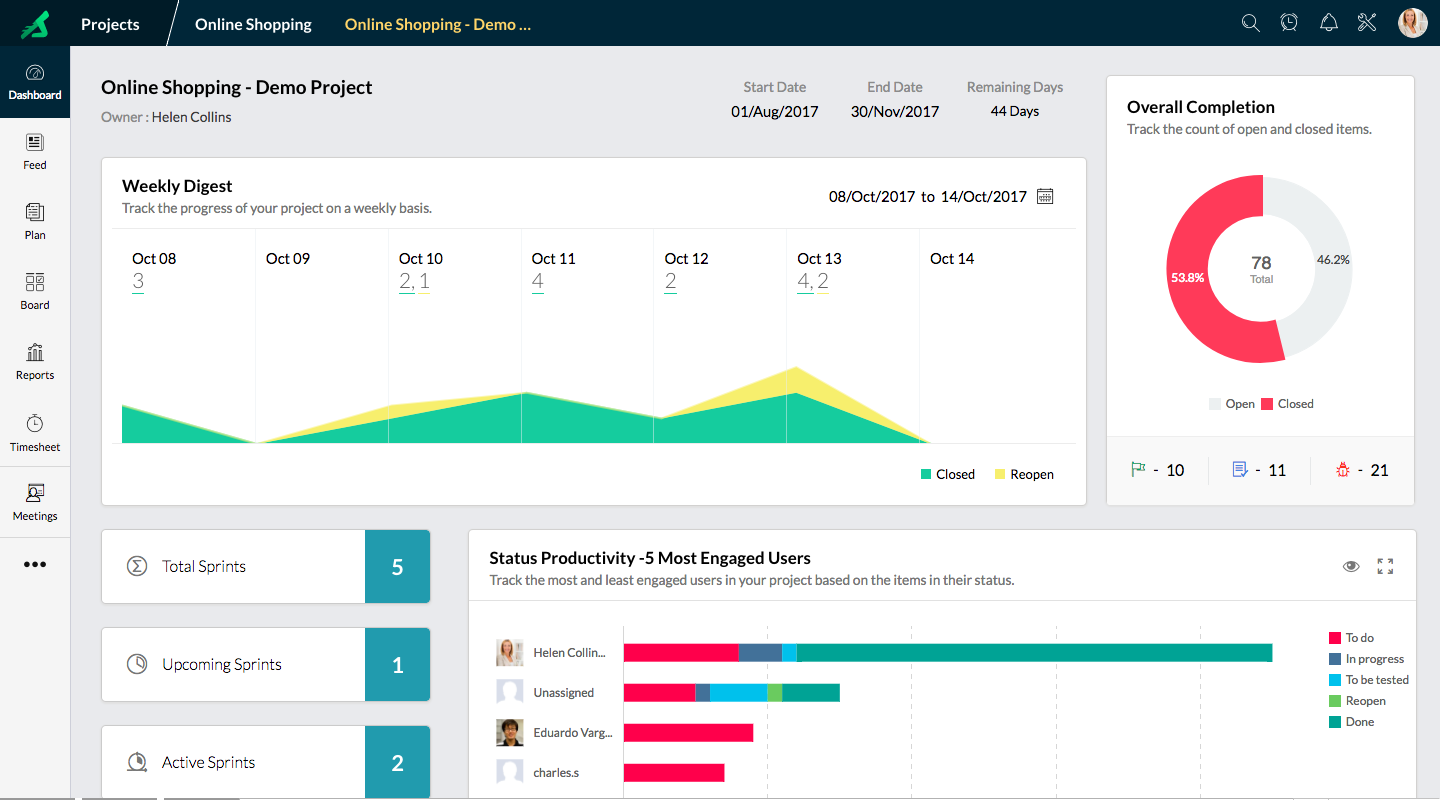 The main benefits of Zoho Sprints are its easy drag-and-drop controls, automated billing, and customizable project status. Zoho Sprints allow you to track your progress in real time. You will be able to know if you are near or far your completion schedule. There is a Scrum Board available that gives users an overview of the team's progress. The Feeds section shows the most recent updates and you can even customize project statuses based on the particular context you are working with. Furthermore, you will be able to reopen tasks and transfer stories to keep track of and manage projects easily. You can do this with intuitive drag-and-drop controls. There is also the Sprint Activity graph that allows you to see all the changes made. This includes the added items, reopened ones, those that have been transferred, and ones are idle.
Team members can log on their dashboards and the system will automatically track their billable and non-billable hours. Additionally, individual users can click on which task they are about to work on. Management will have an easier time tabulating the time logs. There is a global timer function that can help manage when users start, pause, or halt on certain tasks and this data appear in work breakdowns. Administrators can approve timesheets on the system and manage sprints and invoices easily.
Tasks in the system can have their own priority statuses. Users can also create backlogs for projects. Moreover, the system reminds team members when completion or changes happen in the system. Everyone will be on the same page all the time. All of these can be viewed through one dashboard fitted with an overview of vital metrics.
Analytics is also available in the system. A Velocity chart function shows project delivery rates. This also helps you predict the amount of time needed for sprints in the future. The system includes Burndown and Burnup charts as well. These show the pace of your team's effort. Furthermore, a Cumulative Flow Diagram function is built in the platform that helps identify bottlenecks and changes. All of these help teams improve their performance and optimize future sprints.
With Zoho Sprints, team members can collaborate and interact. They can chat and save conversations for future references. Also, email reminders are sent to notify individuals of tasks. All of these can be done even on the go. This is because the platform is available on Android and iOS as well.