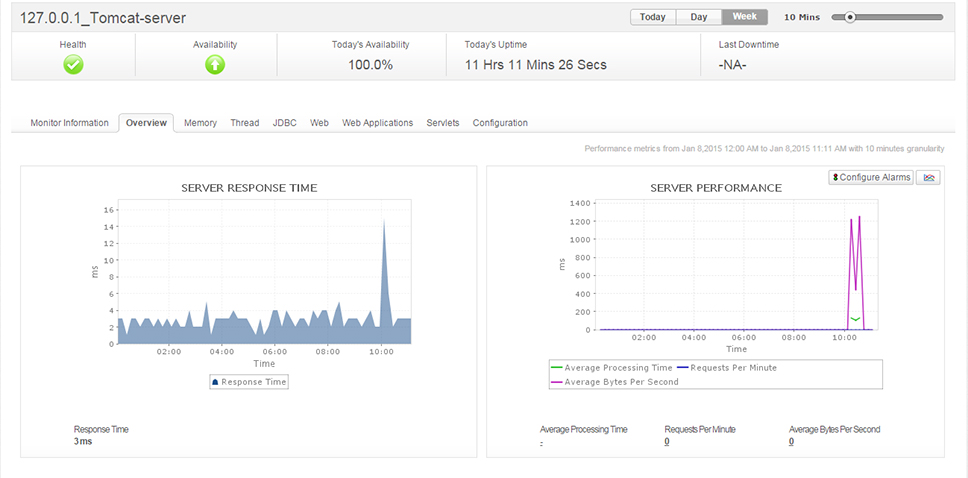 The main benefits of ManageEngine Application Manager are its intuitive UI and robust feature set. Here are the details:
One-click app discovery
ManageEngine Applications Manager's Application Discovery and Dependency Mapping (ADDM) functionality enable companies to discover applications with a click. Companies can also design and realign their relationships to gain a comprehensive insight into their IT infrastructure. IT resources can be viewed holistically using ManageEngine Applications Manager, and businesses can also manage a range of business applications and network services.
Track 50k servers
ManageEngine Applications Manager's Enterprise edition allows businesses to track up to 50,000 servers or applications. Businesses can take a consolidated view of their resources, which helps them discover and resolve application issues before their end users become aware of it. Email or SMS alerts are automated. The use of corrective programs/scripts and sending SNMP traps also automate the resolution of problems.
Powerful reporting
Business managers will be empowered by ManageEngine Applications Manager's powerful reporting tools. The program can also find bottlenecks automatically so system managers can quickly identify problems and apply effective remedies. Managers can also easily use the root cause analysis view as it is accessible from all pages of the web client and displayed as a hierarchical structure. The product is also available in multiple languages, such as German, French, Spanish, Korean, Japanese, and Vietnamese.
Monitor a variety of KPIs
More than a hundred key performance indicators can be monitored with ManageEngine Applications Manager. These indicators include CPU/memory utilization, resource availability, response time and more. Applications can also be grouped and monitored as a single unit.
Likewise, application and server performance can easily be detected as long as baseline values for metrics are provided. With this, issues can easily be identified and fixed. SLAs can also be managed since ManageEngine Applications Manager monitors the performance and availability of business applications. This ensures companies get greater value through more effective management of IT processes.
Wide integration
Businesses can use the software's REST APIs to integrate it with other monitoring solutions and internal portals. They can also restrict access by assigning roles such as manager, administrator, operator, and user. Network administrators also benefit from the World Map Business View as it provides a visual representation of the status of different monitor groups