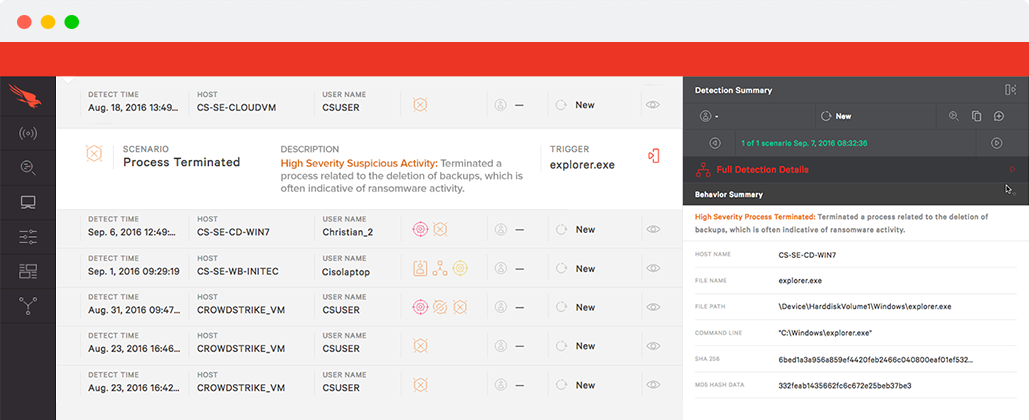 The main benefits of CrowdStrike Falcon are its reliable security as well as a robust feature set. More of its benefits are listed below:
Improved Security
Companies can rest easy with CrowdStrike Falcon, as this endpoint security solution also acts as an antivirus.
Multiple prevention features are also available to fight off new techniques that attackers come up with. This is because CrowdStrike Falcon's algorithms detect two types of threats: malware and malware-free.
Added Time Value
CrowdStrike Falcon only takes a few seconds to be fully operational, thanks to its cloud-based architecture. There are no signatures, further refinements, or additional hardware and servers required. Once a company has CrowdStrike Falcon, they can immediately employ it to protect their endpoints.
Enhanced Performance
Companies can expect supreme performance from CrowsStrike Falcon once it is up and running. Installation and deployment have no impact on endpoints, and neither do daily tasks like endpoint analysis, probing, and exploration.
Real-Time Detection
CrowdStrike Falcon works 24/7, so companies can be instantly alerted in case of breaches or other security issues. CrowdStrike Falcon can also gather and scrutinize information from the entire infrastructure, allowing it to effectively prevent and detect attacks.
The software also continuously records activities, which can be used later on for in-depth assessments. This enables IT security personnel to quickly pinpoint, examine, and resolve breaches.
Threat Hunters
A managed and active threat hunting service is also available to companies who choose to use CrowdStrike Falcon. The service makes sure no threat goes through the cracks, and they also ensure no false positives occur. This, in turn, saves the time of company IT professionals. The threat hunters also prevent or mitigate issues when needed. They can also work with a company's team to resolve a problem.
Adversary Insights
CrowdStrike Falcon also helps IT security workers avert common adversary infiltration to their networks by providing them providing them with insights and reports detailing adversary strategies. This helps companies better arm themselves against cybersecurity threats.