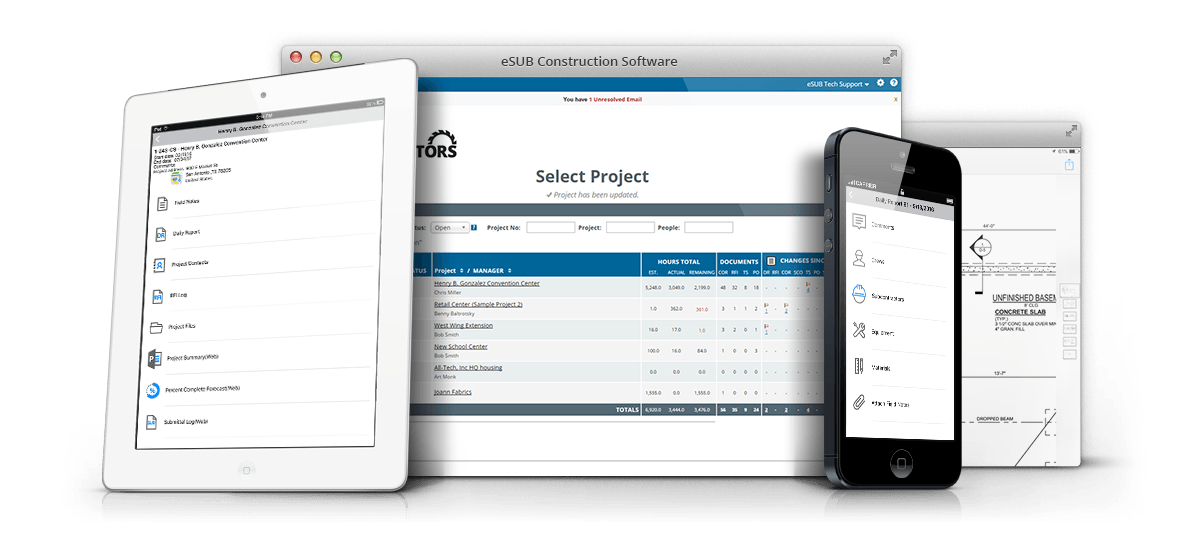 The main benefits of eSub Construction Project Management are, it gives subcontractors and other construction professionals and stakeholders the ability to access project-related information and details from dedicated online portals, allows users to implement accurate and smart project resource management, and keeps documents, files, and information in a safe and easy-to-access cloud-based storage system. Here are the details:
Access Construction Project Information and Details from Dedicated Portals
One of the superb features incorporated into eSub Construction Project Management is that it permits users to set up dedicated online portals where construction professionals and stakeholders can easily access all the information and details they need about their projects. All the pieces of information and documents contained in these portals are automatically updated in real-time, eliminating time-consuming and complicated data management tasks and enhancing access to accurate project details.
Monitor and Manage Project Resources Accurately and Intelligently
eSub Construction Project Management optimizes how users monitor and manage construction project-related resources, encompassing human resources (office and field-deployed employees), material expenses and estimates, and more. The suite permits them to allocate resources intelligently, handle their financials accurately, and ensure that employees or team members are doing their assigned tasks properly and in compliance with budget policies.
Store and Organize Information in a Cloud-Based Storage System
The construction project management suite stores and organizes information in a cloud-based environment. Although users can save project documents and files in their own hard drives, eSub Construction Project Management makes sure that they can produce cloud backups of such documents and files. So, in case their desktop computers malfunction or break down, copies of their most important project documents and files are still available and accessible from the cloud.