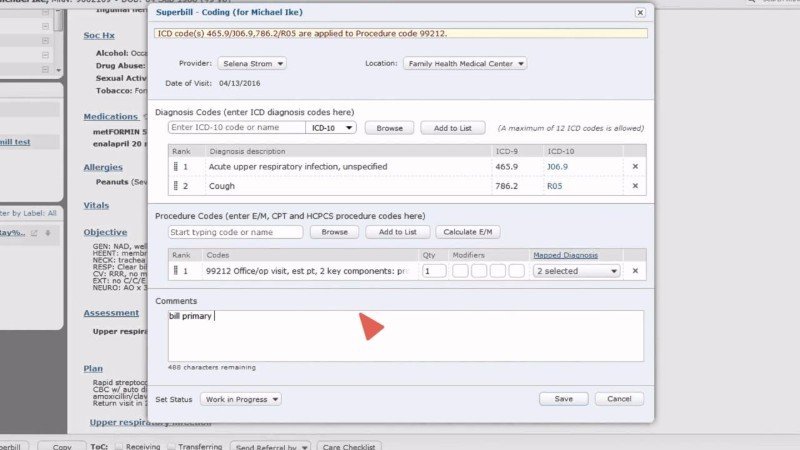 The main benefits of Kareo Clinical are its complete dashboard, its e-prescribing feature, and security. Here are the details:
Everything that a physician or medical staff needs to do for the day can all be seen on one screen, thanks to the comprehensive dashboard provided by Kareo Clinical. With this dashboard, the customizable calendar becomes a location where users can take a look at their tasks. With it, critical matters can be quickly addressed.
Notes about patient encounters are easy to do with Kareo Clinical and already include important patient information such as surgical operations the patient has undergone before or any medications prescribed to them. Not only will health workers easily find any information they need, but adding additional data is also easy to do.
The e-prescribing feature is something both patients and physicians will appreciate as it helps to find which medications are affordable. It will even offer coupons so that patients can save money without having to compromise their health.
Taking notes on paper can end up being disorganized, and healthcare workers may not always have a paper on hand. With Kareo Clinical, any notes made can be immediately recorded, even when they are consulting with patients or making the rounds.
Billing can become an automated process with Kareo Clinical. All clinical and hospital staff need to do is to input the patient's assessment into the chart and the solution takes care of having this reflected in the billing. Codes and diagnoses can also be manually chosen by the staff, with the solution then putting the most used items in a favorites view. Users can then just pick the correct entry from there.
Communicating on Kareo Clinical is safe and secure so users can be confident that sensitive patient and practice information doesn't end up in an unsecured location. Doctors can also message their patients using the tool, increasing their productivity. They can also be confident that messages remain confidential.