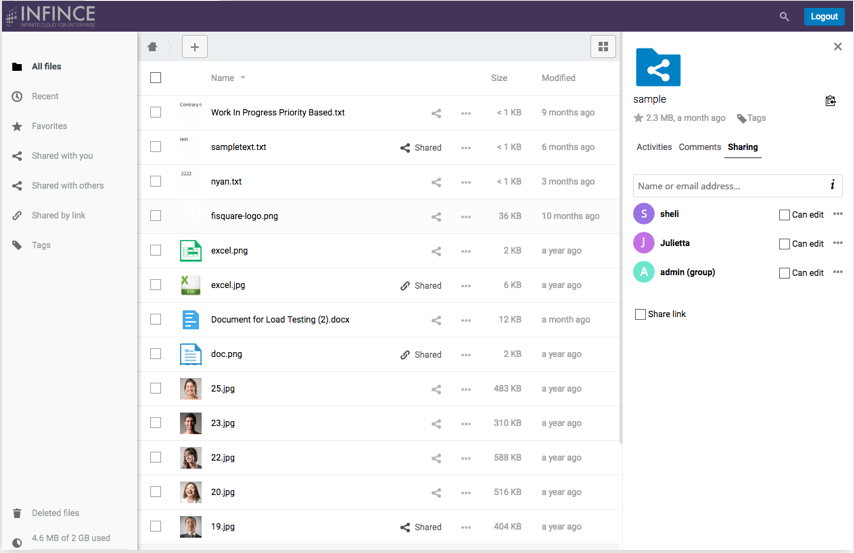 INFINCE helps you choose the right solutions for your business. It rapidly provisions the IT infrastructures of cloud servers and software to quickly adapt to the changing business demands and requirements. With that, here are the top benefits you'll get from the app:
Empowers team collaboration
INFINCE reviews show the solution empowers team collaboration from any location at any time using any device. Teams communicate through text, chat and video call. INFINCE's calendar shows everyone scheduled activities and allows teams to share event details, check availability and schedule meetings. Coordinating on information is done with real-time screen sharing, online meeting rooms, and customized team dashboards.
Optimizes information management
Files are shared securely with correspondents both inside and outside the organization through options such as password-protected access. Multiple collaborators can work together at the same time on the same document through ready-access to online apps for creating documents, spreadsheets, and presentations. This drives collaboration and prevents unauthorized access to crucial business data.
Offers rapid-start business applications
As per INFINCE reviews, switching on business applications is done with ease through its support services. Users can easily select storage options and matching cloud servers. It also manages resources better and minimizes costs by streamlining IT with packaging standard solutions.
Tightens administrative control
INFINCE's intuitive dashboards centralize your administration. It simplifies onboarding employees, managing users and creating teams and departments. You have control over enabling users with SSO for a single-click access to the right data and business apps with the option to disable access once the employee is no longer in your company. The service also takes care of your technology and infrastructure's maintenance, backups, cloud configurations, security, updates, and firewalls so you don't have to worry about IT matters.