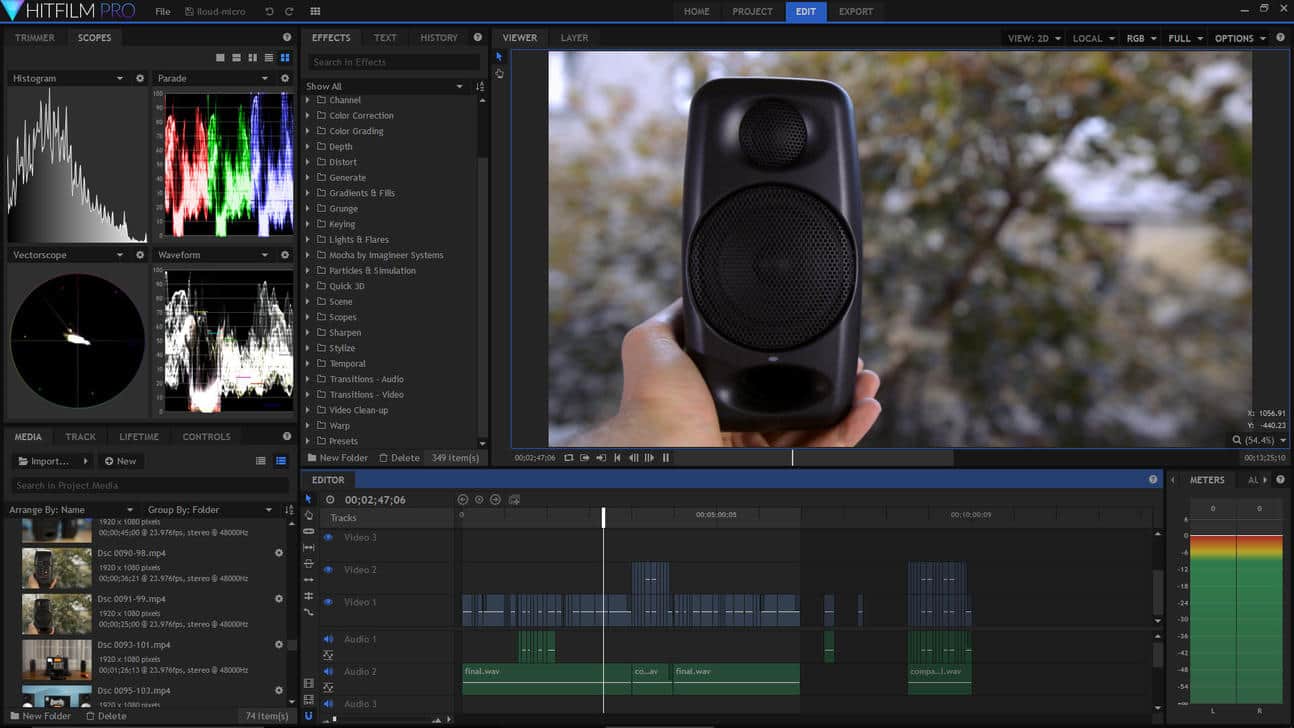 The main benefits of HitFilm Pro are high-performance editing, 3D animation, and robust green screen technology. Here are the specifics:
High-Performance Editing
HitFilm Pro helps to make audio and video even simpler and faster. You can perform editing tasks without interruptions since the software processes footage in the background as you edit your videos. Importing audio tracks and clips in different frame rates, formats, and resolutions, as well as mixing them are made possible with HitFilm Pro. Its professional editor contains animation panel that lets you animate keyframes and polishes its sound directly from the software.
3D Animation
You can enhance your footage and make life-like scenes with 2D characters, 3D animations, and 3D models. You can import 3D animation using different formats and create realistic scenes through 3D cameras, custom shadows, and dynamic lighting. To simplify the making of complex animations, HitFilm Pro provides built-in rigging and parenting tools.
Green Screen Technology
HitFilm Pro has Chroma Key, a visual effect method used for video game creation, filmmaking, and photography in which the colored background is replaced with new compelling images. This technique combines two different video streams and places a moving figure against a new background. This feature is available in HitFilm Pro and called a green screen technology that allows you to extract objects and characters from scenes and footages.
Life-Like Audio
Its Doppler shift feature is referring to the change in sound wave frequency as a result of relative motion between the source and observer. As the observer moves away from the sound source, the sound faints, and when the observer moves closer to the source, the sound becomes louder. You can automatically implement Doppler shift to your 3D objects and models, so you simulate engine sounds or helicopter landings.
Puppet Tool
HitFilm Pro delivers a puppet tool that lets you add animation to static characters such as images, texts, and shapes by applying motion graphics.