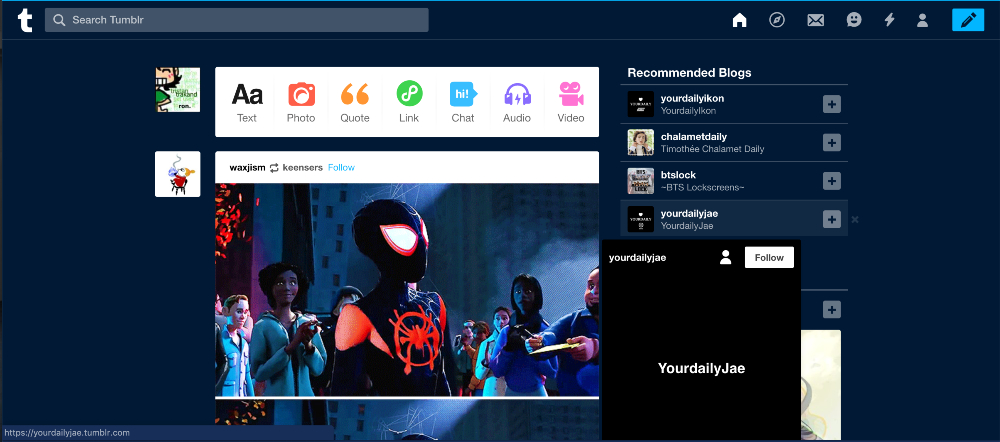 The main benefits of Tumblr are it simplifies blogging, makes uploading posts available on any device, offers a blogging platform for free, and enables users to grow their social media presence.
The blogs that users follow show up in a live feed of posts that is called the Dashboard, which is the primary feature of Tumblr. Other users can re-blog, like, or comment on these posts, as well as share their own content. These posts can either be images, video files, texts, chat discussions, quotes, links, and audio files.
Users who also have Twitter and Facebook accounts can also link their Tumblr blogs to those accounts so that a tweet or a Facebook status automatically shows up when a new Tumblr post is made. Users no longer have to go to different social networking sites to upload the same content over and over.
Posts can also be scheduled using the Tumblr Queue, which can spread them out over hours or days. Users save time as they can plan their posts ahead of time and then save them for posting in the future.
Audiences looking for specific material can also look at a user's tags to find it. A tag is a word that audiences can search for and can be added to posts as a hashtag.
Blog appearance can be customized as HTML editing is allowed on Tumblr. Even domain names for their Tumblr can be specific and personalized, and will definitely be easier to remember and search for on the internet.
Questions or chats with other bloggers can be had either in one's inbox or through the messaging function of Tumblr. Anonymous messages can also be sent.