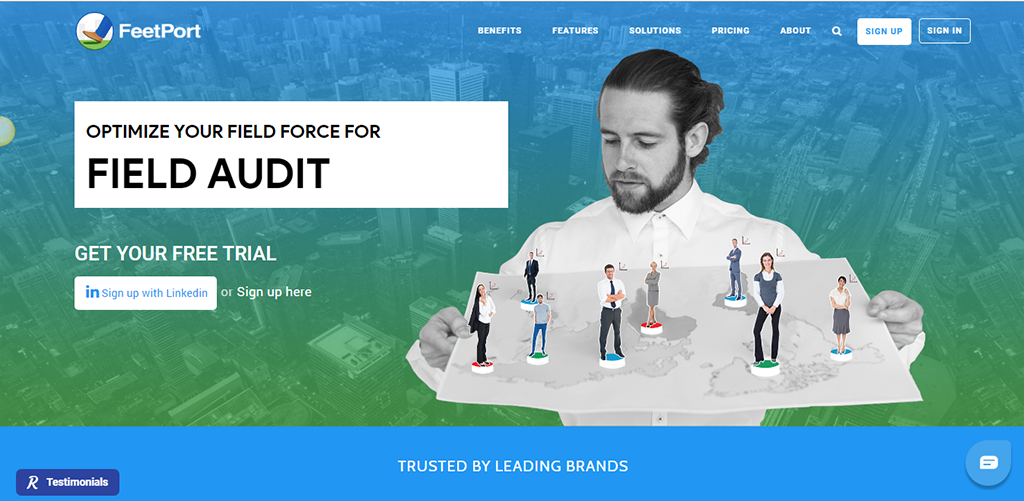 FeetPort is a feature-packed tool for managing your field team scattered across your operational geography. Empowering your workflows with digital solutions and cloud technology, this software gives you these main benefits:
Having a bird's eye view on your field force locations
According to FeetPort reviews, the tool captures and updates you with each location your field team goes to in real-time with information such as the nearest address, distance traveled from one place to the next, and timestamp. It also offers visibility on the signal strength, battery status and weather update for each place visited by your field executive.
Maximizing digital forms
FeetPort lets you convert your paper-based form into digital forms with numerous fields and information. You can make separate forms for surveys and feedback, for instance, and control individuals who can access it. Building the forms is highly intuitive where you can customize numbers, phones, emails, and single- and multi-line views, among others. QR code, barcode, and NFC tag scanning can be added. The digital forms can be administered on your desktop and mobile device.
Managing tasks efficiently
FeetPort manages workflows that are viewable and optimizable for your project's progress. Follow-ups for the same client for a visit report or task can be accomplished on the tool. It lets you upload tasks, jobs and Excel files one-by-one or in bulk to suit your needs. Assigning jobs for each member is done easily by choosing their name. You may also automate designating people in a specific territory for required tasks.
Staying connected with real-time updates
FeetPort reviews also indicate the tool ensures your field team is aligned with goals, updated with the latest information, and kept connected even in various remote locations. It triggers push notifications, SMS, and emails to the right member with the right message at the right time in situations such as a report or survey completion. When broadcasting push notifications, you can use smart filters such as Territory, Area or Supervisor to deliver critical messages to the right field team.