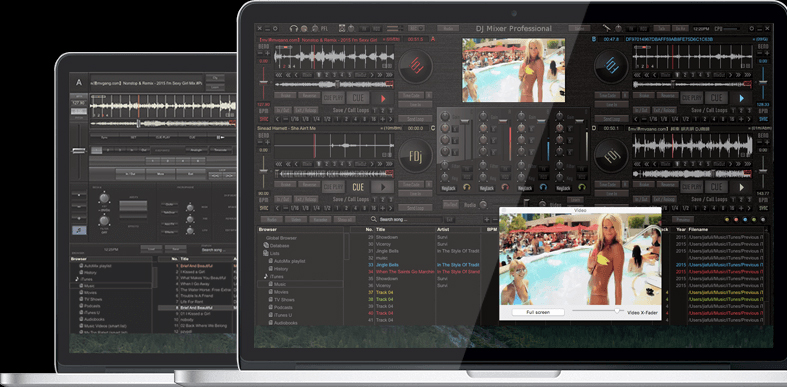 Easy to Use
You'll read in many DJ Mixer Pro reviews that this software is perfect for novice DJs as well as experienced club DJs. It offers all the tools and features you need to create astounding DJ sets. Simply add tracks from your hard drive or iTunes to get started. The platform offers excellent support for DJ hardware controllers.
Sync Tracks Between Decks
The Smart-Sync feature automatically finds out each track's BPM and enables you to sync tracks between decks. This function ensures no matter which deck is playing, the other deck is in full sync with it.
Beat Looping
If you have found a pleasing loop or need to extend your mix while preparing for the next track, you can instantly and easily loop a 4, 8, or 16 beat section with a simple button click.
Use Sophisticated DJ Tools
DJ Mixer Pro offers advanced tools such as beat grid editing, slip mode, skipping, looping, cue points, and auto-sync.
Robust DJ Interface
Utilize the interface that includes a music library, sampler, two or four decks, waveforms, and turntables.
Perform Audio Analysis
Benefit from helpful audio analysis tools such as auto-gain/normalize, key detection, frequency-based colored waveforms, flexible beat grids with assistance for dynamic tempo, BPM and beat detection, and more.
Hardware Integration
This includes support for microphones and external audio input, support for multi-channel USB audio interfaces, native support for more than 90 MIDI controllers, advanced MIDI learn, and more.