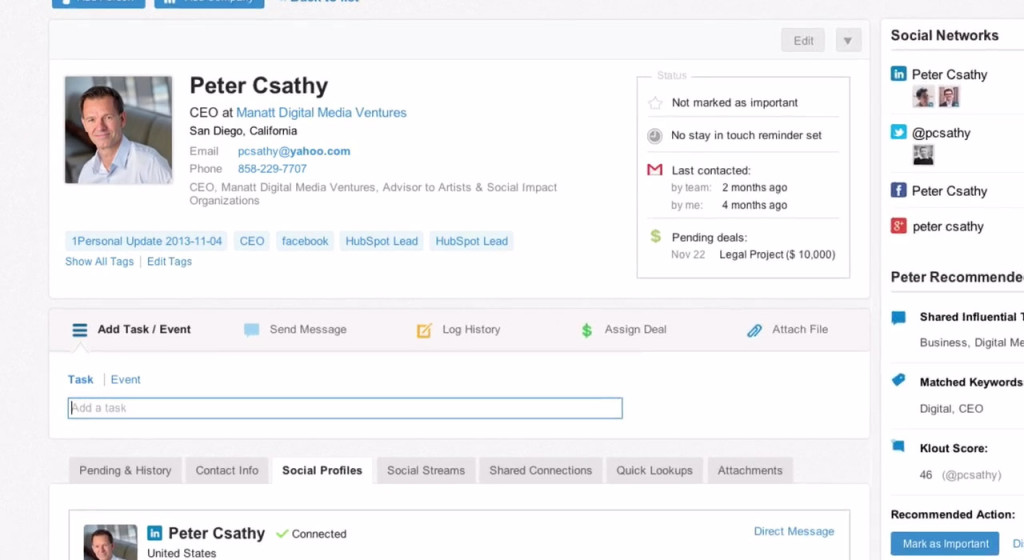 The main benefits of Nimble are handy integration, all-inclusive contact record, and seamless contact importation. Read on to understand further.
Nimble lets you focus on the important aspects of your business, including data management, customer engagement, and sales insights. It easily responds to all your client management needs without worrying about the niche and industry you are in. Another factor that makes it more attractive is the handy integrations that allow you to seamlessly connect it to your existing business applications.
Its Contact Record, which is known as the key feature of the software, is where the contacts are viewed in rich detail and it is where the true magic in your business occurs. The software effortlessly imports the basic data about your contacts from Gmail, Outlook, Yahoo, LinkedIn, Facebook, Skype, phone, email, and more. Besides that, it also goes to another higher level that supplies every Contact Record with rich information across the social media networks.
You can acquire in-depth insights about the individuals in your business so you can strengthen social media relationships for a more productive campaign. Moreover, the software keeps all your information organized and updated. You can utilize the marking features and reminders to note and simplify the message to cover each communication.
Also, Nimble automatically fills your contact records from names and emails, eliminating the need for more data entries. Shared interested will also be analyzed with Nimble, including keywords and topics so you can gain insights to understand why contacts are important to you.