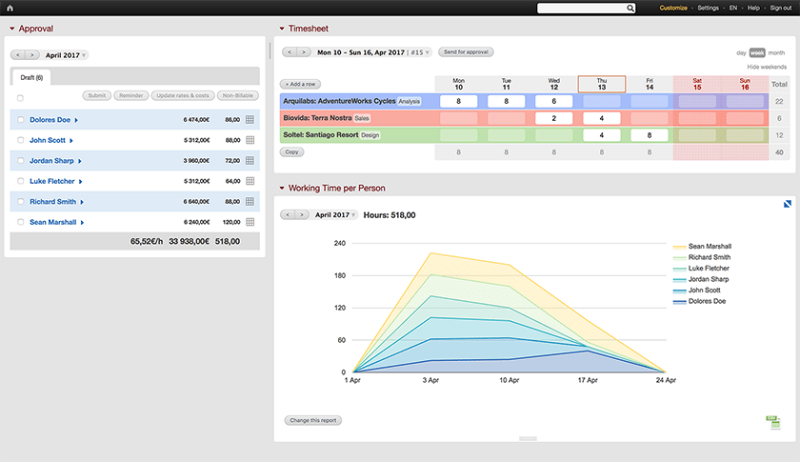 What benefits can you expect by investing in this application? Our BeeBole Timesheet reviews provides all the details:
BeeBole Timesheet enables businesses to efficiently keep track of their staff members' time. You can choose how your employees should log in: monthly, weekly, or daily. The platform is simple to use and can be easily configured for your specific business needs.
Besides keeping track of staff members' log-ins, absences, and attendance, BeeBole can also track time for budget and payroll purposes. It allows you to set budgets for projects and maintain control over them in real time to ensure you don't overshoot the limit.
BeeBole offers an intuitive dashboard that displays at a glance how your employees spend their time. You can customize the dashboard to view what you need and don't have to go through loads of unnecessary data. Plus, the dashboard displays the latest info, which means you are constantly updated on your staff members' activities.
This solution is cloud-based and does not need any installation. It provides robust encryption to protect your timesheet data from unauthorized parties. In addition, the application logs all activities and logs them to create an audit trail which allows you to keep tabs on timesheet history.
Finally, BeeBole integrates smoothly with leading software products to facilitate seamless workflow processing. Its open API connects it with popular business apps such as Google Suite and QuickBooks and enables you to link all your essential tools.