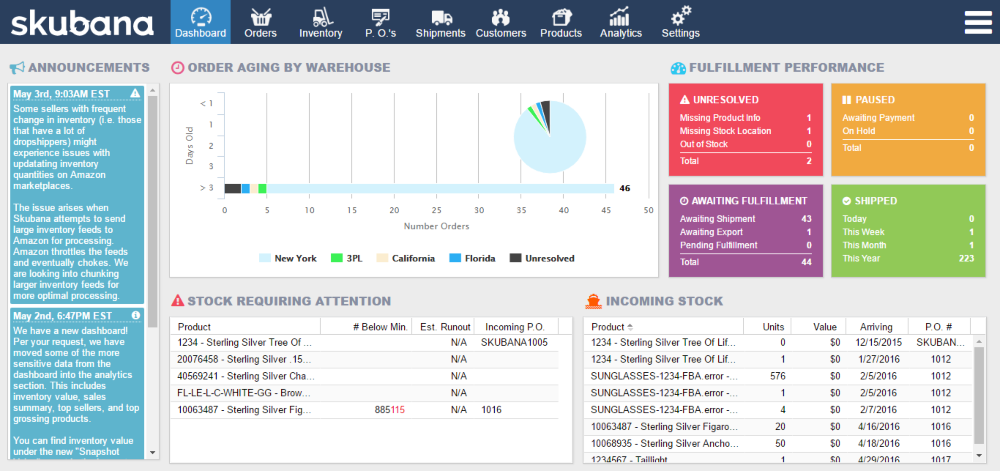 The main benefits of Skubana are its analytics feature, its simplifying of inventory management, and how it allows users to use it anywhere at any time.

Skubana is a perfect fit for sellers, as it is software designed by sellers as well. It brings everything together on one platform and the Skubana Dashboard lets you see all the stats, from fulfillment performance, incoming stock, order again, and low stock levels. Getting a view of all of this helps users analyze where their store currently stands.
With Skubana, items can be directly imported from the warehouse with just one click, simplifying inventory management. Warehouses from all over the United States are listed on the platform so all users need to do is click.
Orders can be made, canceled, tracked, and even edited using the Purchase Order module, while preferred vendors can order from can be decided on the Vendor setup tool.
Businesses also get a clearer idea of how much they're profiting with Skubana Analytics. With this feature, users get an in-depth look at how their revenue is generated, with information on gross margins, unit margins, and other facets. Users get an idea of what sells and what doesn't at their store, which results in better-informed decisions when it comes to choosing which items to stock.
Because the software is cloud-based, businesses don't have to consider hardware costs and can be confident that their data is secure and safe. It can also be accessed on tablets and mobile phones since it works on most operating systems.