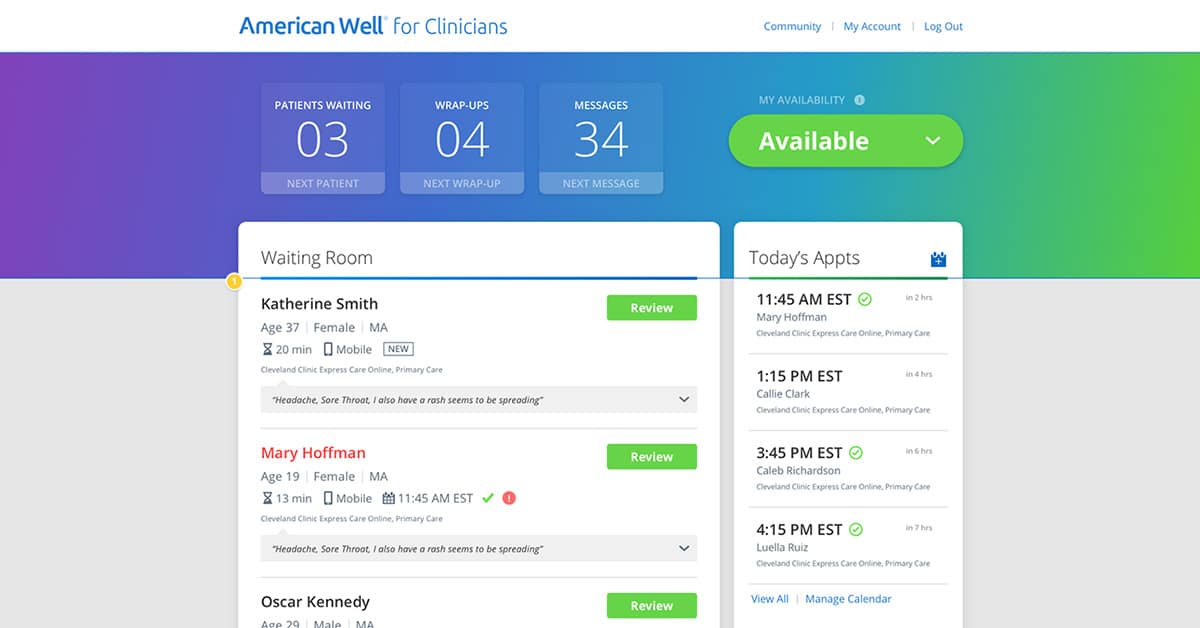 The main benefits of American Well are its custom solution, support for integrations, seamless exchange of healthcare services, multi-way video, and insight generation. To learn more, check out its benefits below:
Custom Solution
American Well is a highly customizable solution to meet the needs of urgent care. It can be used by reputable practices to build an online-only service that are similar to that of physical locations. Creating an intuitive online space is beneficial for both the users and the patients for easy communication about the treatment and healthcare.
Support for Integrations
In the healthcare industry, connecting information between systems is crucial to provide an accurate analysis quickly. With American Well, doctors can easily access the correct information with its custom integrations and web APIs.
Seamless Exchange of Healthcare Services
Sharing healthcare services with the organization is made easy with American Well. Providers, players, and stakeholders are more connected as well. Meanwhile, patients also get a better match to the right doctors and distinguished specialists to treat them accordingly.
Multi-Way Video
American Well optimizes communication to provide collaborative healthcare to patients. With the multi-way video feature, the doctor and patient can communicate remotely with ease. They can invite other caregivers, specialists, and even family members. This is also a helpful feature if a language translator is needed between the doctor and the patient.
Insight Generation
Since a patient may also go to different specialists and doctors, ensuring you have easy access to patient care information is crucial to avoid gaps. American Well offers insights into the patient's healthcare history and checklists for disease management, among others. By having access to all relevant information, the doctor can make sure to provide the best diagnosis and healthcare, and treatment to the patients.