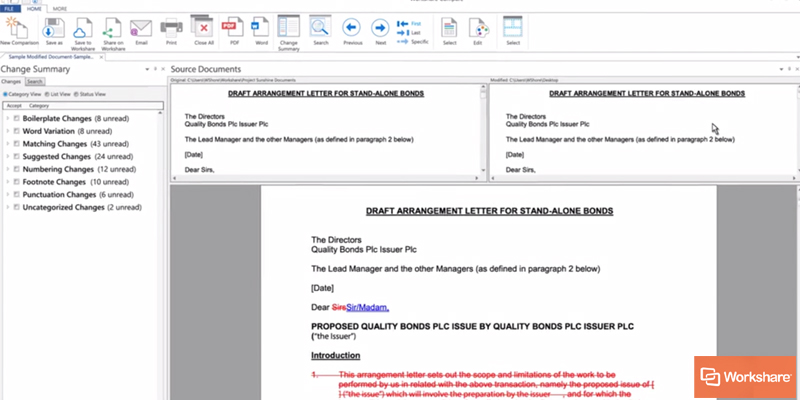 The main benefits of Workshare are its robust features, security, and customizations. Here are the details:
In this Workshare reviews we'll show you the benefits you can expect by subscribing to Workshare.
To start, you don't have to sift through all historical activity in the file as you are shown only what has changed since your last review. This enables you to focus on essential stuff.
Workshare deploys accurate document comparison technology and has been utilized to compare multiple versions of long and intricate critical business files. You can make sure all team members can automatically view updated versions of a file and be able to pull up any older version for comparison, on any device. Plus, you can utilize this app for social feeds, real-time discussion and virtually any activity relevant to your tasks.
You have the ability to customize the files you wish to keep on particular devices and make sure they are updated to the latest version. Besides, you can access your files from anywhere, at any time. You can submit reports on time and share vital files even on the go. On top of that, you can share your comments on a document and place them in context for easy viewing by other team members.
Workshare claims to place utmost importance on data and document security and safely stores all your files in the system. You are given the ability to decide who can access your files, download them, comment on and edit them, and more. Another key advantage is everything you send is scanned automatically for sensitive or hidden data to provide protection from errors.
In short, Workshare allows you to share your documents easily and discuss them in one place, maintain control over all file-sharing aspects, view the latest changes in the files to stay ahead of all activities, and work on any document from anywhere, at anytime. Check out this Workshare review for more information on the software and its features.