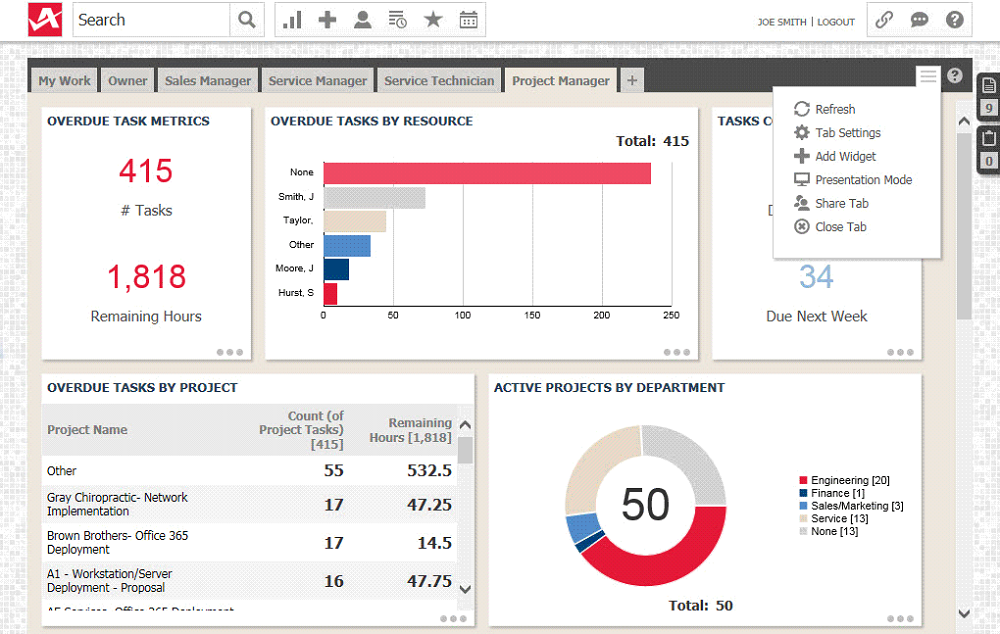 The main benefits of Autotask are the different functionalities it provides through the different modules it is equipped with, centralizing contacts, and customizable dashboards. Here are more details:
Service Desk Functionalities
Through Autotask, schedules are easier to create and manage with the aid of the drag-and-drop dispatcher workshop. Dashboards can also be customized to display only the metrics that are vital to your tasks. This frees your workspace from clutters caused by unnecessary information being displayed. Emails, notes, incidents, and contracts of customers are also kept under one roof for easy access.
SLA management
The platform is capable of multiple SLAs management even at different levels. It integrates an SLA module without the need for accounting, which effectively cuts down minutes or even hours of billing processing time. Different SLA information can also be monitored through workflows, automatic alerts, and escalation paths. Automated workflows can be used to manage client expectations. Real-time alerts and updates keep you informed of which tasks are nearing their due dates or should be prioritized first.
Remote Monitoring and Management Capabilities
Autotask can track any type of device at all times and immediately deliver personal-level support with ticketing and audit trail. It uses encryption to keep remote communications secure. The system is also equipped with built-in dashboards used to monitor SLA service delivery.
Project Management Tools
By keeping a close eye on your service deliveries, you are able to meet with your billing milestones. Project workflow events are being regularly monitored by the system. Efficiency vs cost control and project profitability can also be accurately measured using reliable data.
Customer Relations Management Features
The platform contains CRM features that show everyone all the contracts, tasks, to-dos, tickets, and opportunities in a single, centralized location. This makes it easier to identify the most impactful metrics in customer service and improve them accordingly. There are also self-help tools for 24/7 help desk.
Time and Billing Module
Autotask automatically applies expenses and time on any type of contract. It is also capable of outsourcing and in-sourcing tickets for your partners. It can integrate timesheets with the accounting solution you are currently using in just a single click for posting and approval. Invoices can be customized as well by customer type.